EHAM QTH QRZ ARRL HRO ICOM KENWOOD YAESU 6PM 145.130 NET .
TUESDAY EDITION: I have been looking for a place to throw up a Cobra Antenna in the yard without making the yard look like Wally World and keep the yl happy. I have plenty of 50 foot trees but I need to move a few of them so they work for me!....I have an Icom 4100 to try out and wish there was a DStar repeater around here, I can use my hotspot but that would be like shooting a duck with a .45......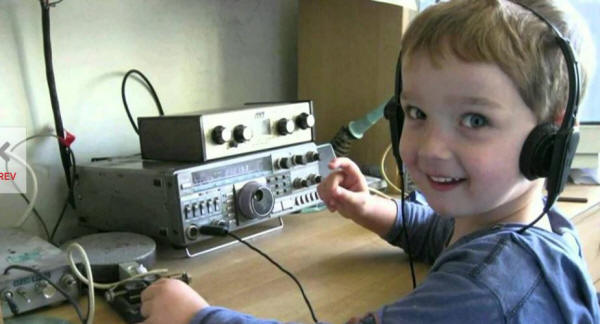 Start them young.
Licensee Hit With $24,000 Fine for Jamming Net, Failure to ID: FCC...has the FCC ever collected a nickel on any fine they ever issued?
An investigation by the Federal Communications Commission (FCC) results in a large fine against a California amateur radio license holder. A Notice of Apparent Liability Forfeiture (NALF) for $24,000 has been filed against Phillip J. Beaudet, N6PJB, of Burney, California. According to the filing, the penalty is for Beaudet "willfully and repeatedly interfering with the radio communications of the Western Amateur Radio Friendship Association (WARFA) while it was attempting to hold a regularly scheduled net and for failing to provide station identification on amateur radio frequencies." FCC agents used direction finding techniques during November and December of 2022 to track the interfering signals to Beaudet's home station. Agents "heard him playing recordings on 3.908 MHz that caused interference to the ongoing WARFA net while failing to provide his assigned amateur call sign," the document stated.
Hamvention sees largest attendance record
XENIA, Ohio (WKEF) -- The largest amateur radio convention saw a greater attendance during its 2023 Hamvention in Xenia.
Attendance was 33,861, which is more than 2,000 greater than last year, and even surpassed the previous pre-pandemic attendance record of 32,472.
"Things went very smoothly due to the dedication and hard work of close to 700 volunteers," said Jim Storms, general manager.
Dates for 2024 Hamvention are scheduled for May 17-19 at the Greene County Fairgrounds and Expo Center.

MONDAY EDITION: I played with a donated Elecraft K2 100 this weekend, a nice radio for sure. A low end entry into the Elecraft line and has been available for many years. Originally sold as a cw radio with 15 watts out and an optional SSB module and 100 watt amplifier module. I am guessing a $2000+ radio. I made a few contacts but spent most of the time listening. The cw filters are unreal! We will keep this gem and not EBay it at the club. We also received two Icom 751A's, also a fine older radio in excellent condition which we plan to EBay. Additionally we received an Flex 3000 we will EBay. .....U.S. releases video showing close-call with Chinese warship
Factors that influence the cost of ham radios
Ham radios, also known as amateur radios, have been a popular means of communication among hobbyists, emergency responders, and enthusiasts for decades. These versatile devices provide a unique way to connect with people worldwide, participate in emergency preparedness exercises, and explore the world of wireless communication.
However, one common question when considering the ham radio hobby is, "how much is a ham radio ham ?" In this comprehensive guide, we will delve into the various factors that influence the cost of ham radios and provide you with a clear understanding of what to expect.
Types of Ham Radios:
Ham radios come in various types and configurations, each with features and capabilities. The cost of ham radio will largely depend on the type you choose. Some common types include handheld radios (HTs), mobile radios, base stations, and software-defined radios (SDRs). HTs are portable and compact, while mobile radios are designed for vehicle use. Base stations provide more power and typically have more extensive ranges, while SDRs offer advanced digital signal processing capabilities. The cost will vary based on the type and the features it provides.
Power Output and Frequency Range:
Another critical factor that affects the cost of ham radios is their power output and frequency range. Higher power output and broader frequency coverage usually come at a higher price. Radios with lower power output may be suitable for local communication, while those with higher power output can reach longer distances. Similarly, radios with broader frequency coverage allow users to access more bands and modes, making them more versatile and expensive.
Features and Accessories:
The features and accessories included with a ham radio can significantly impact its cost. Some radios have built-in GPS, digital signal processing, automatic antenna tuners, and advanced filtering capabilities. Additional accessories such as external microphones, antennas, battery packs, and charging stations may add to the cost. Consider your specific needs and interests to determine which features and accessories are essential for you, as opting for more advanced options will generally increase the price.
Brand and Quality:
The brand and quality of the ham radio can also influence its cost. Established brands with a strong reputation in the amateur radio community often command higher prices. These brands have invested in research and development, ensuring quality construction, durability, and excellent performance. While budget-friendly options are available, balancing cost and quality is essential to provide a reliable and enjoyable experience with your ham radio.
New vs. Used Equipment:
Another consideration that affects the cost is deciding whether to purchase new or used ham radio equipment. New radios generally have warranties and the latest features, but they can be more expensive. On the other hand, used radios can be more budget-friendly, especially if you're starting in the hobby and want to explore different options before committing to a higher-priced radio. When purchasing used equipment, it's essential to research the seller, inspect the equipment thoroughly, and ensure it is in good working condition.
Conclusion:
When considering the cost of ham radios, evaluating your needs, preferences, and budget is crucial. The price of ham radios varies based on factors such as type, power output, frequency range, features, accessories, brand, and whether the equipment is new or used. Take the time to research different options, read reviews, and seek advice from experienced ham radio operators. Doing so lets you make an informed decision that aligns with your interests while ensuring a rewarding and enjoyable ham radio experience. Remember, ham radio is not just a hobby; it's a gateway to an exciting world of communication and exploration. source
WEEKEND EDITION: Good morning hamsters, a rainy one for sure....We received two Icom 751a transceivers yesterday among other radios for the club. I thought I would go over to the club today and fire them up and see what works and what doesn't. ....SCOUTS TO THE RESCUE: On the one hand, Eric Valentine, an 80-year-old former Scoutmaster, is lucky that a group of Scouts just happened to pass by in their canoes minutes after he fell down a rocky riverbank, seriously injuring himself. On the other hand, there's nothing lucky about a Scout troop being prepared. Knowing they were entering an area of the Snake River with limited cellphone service, Troop 77 from Eagle, Idaho (Mountain West Council), carried one ham radio, one satellite communicator and several short-distance radios with them. Knowing it would take a significant amount of time for first responders to arrive in case of an emergency, they had one adult with wilderness first-responder training and several Scouts familiar with basic Scouting first-aid skills. ARTICLE.....FYI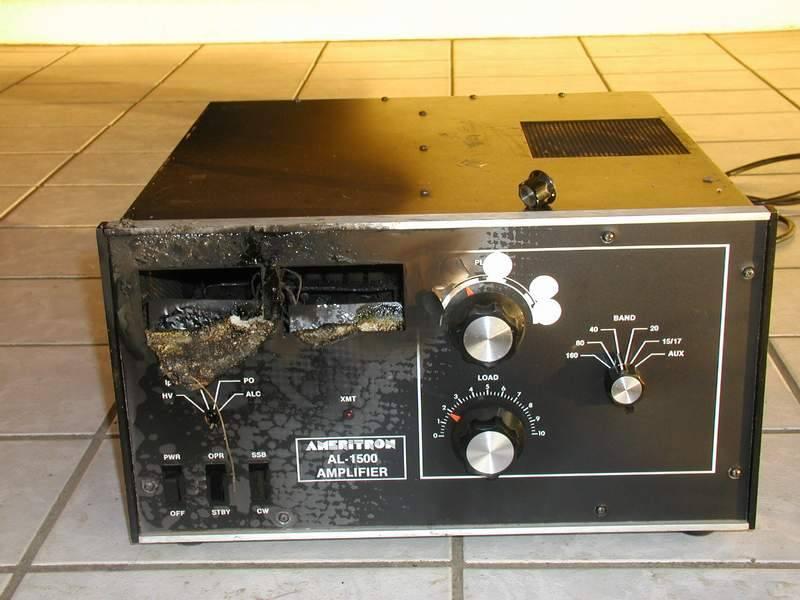 See what happens when you put those damn stickers on your radios?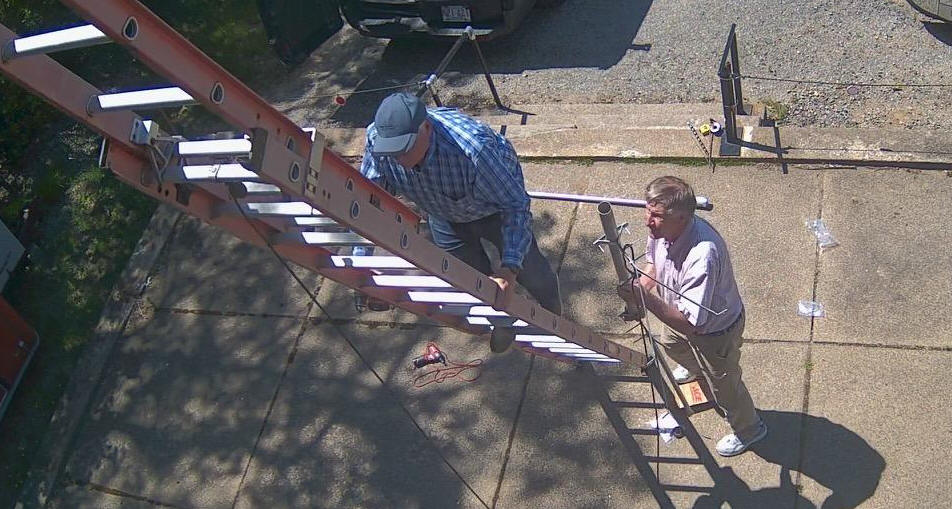 As you can see, I was the most important man on this job...holding the ladder and handing up the antenna mount....
Museum Ships On-the-Air Weekend
If you like ships and are an amateur radio operator, 100 ships will be on the air from June 3 - 4 for the annual Museum Ships Weekend event.

Organizers stress that this is not a contest, but a fun event that begins at 0000Z on June 3, 2023, and runs through 2359Z on June 4, 2023.

While operation on any amateur frequency is allowed, most ships will be operating in the general portion of the bands. Other possible modes and frequencies include:

PSK31: 14.070 MHz, 10.142 MHz, 18.100 MHz, 21.070 MHz, and 28.120 MHz

FT8: 3.573 MHz, 5.357, 7.074 MHz, 10.136 MHz, 14.074 MHz, 18.100 MHz, 21.074 MHz, 24.915 MHz, 28.074 MHz, and 50.313 MHz

FT4: 3.575 MHz, 7.047 MHz, 10.140 MHz, 14.140 MHz, 18.105 MHz, 21.140 MHz, 24.919 MHz, 28.180 MHz, and 50.318 MHz

Some ships may also operate at 3880 - 3885 kHz as well as7290 kHz amplitude modulation with either their original or modern equipment.

All stations that contact at least 15 different participating ships can receive a certificate if they send a copy of their log entries to each individual ship with two exceptions to acceptable contacts:

Contacting the same ship on more than one frequency or mode does not count as having contacted more than one ships.

Contacting a non-participating ship does not count.

New this year, DX stations contacting at least 10 different ships will be eligible to request a certificate (this does not include the US states or Canada).

For more on the event and frequencies used, contact The Battleship New Jersey Amateur Radio Station.
ARRL Elected to Serve on SAFECOM
ARRL The National Association for Amateur Radio® has been elected to serve on SAFECOM®. SAFECOM is a group of national thought leaders and officials within the emergency communications and response space that works to set standards used at every level. The program is managed by the Cybersecurity and Infrastructure Security Agency (CISA), an agency of the US Department of Homeland Security.
SAFECOM sets the standards of interoperability procedures, and ARRL being a part of the group solidifies the Amateur Radio Service as a robust resource before and during times of crisis.
In a letter from SAFECOM Chair, Chief Gerald R Reardon said "On behalf of the SAFECOM Executive Board, it is with great pleasure that I inform you of our offer to join SAFECOM as a member association. SAFECOM aims to improve multi-jurisdictional and intergovernmental communications interoperability through collaboration with emergency responders and policymakers across federal, state, local, tribal, territorial, and international partners. SAFECOM recognizes the organization's dedication to emergency communications and interoperability, and therefore is pleased to extend a membership offer."
ARRL Director of Emergency Management Josh Johnston, KE5MHV, said "Gaining a seat at the table is a major step in strengthening the role and capability of Amateur Radio with emergency communication agencies. This will give us the sounding board and resources we need to set standards and create training for our Amateur Radio Emergency Service® (ARES®) volunteers that will better suit AHJ's (Agencies Having Jurisdiction) and partner organizations." The opportunity for ARRL to provide a more comprehensive Emergency Communications program is part of the goal the Board and ARRL leadership has begun to emphasize over the past few years, and this is one more example of the commitment to do so. ARRL will provide premier resources for the served agencies to support them in all phases of Emergency Management.
Johnston will serve as the Representative for ARRL on SAFECOM and will be meeting with that leadership over the coming days to begin the process of better understanding all the roles and responsibilities that come with being a member association. "I look forward to working with the SAFECOM leadership as we move forward and with the ARRL Leadership to better serve the Ham community and our Served Agencies and Partners." Johnston said.
For more information about ARES and other ARRL Emergency Programs and training visit our web page at: http://arrl.org/public-service
For more information about SAFECOM go to: https://www.cisa.gov/safecom
About ARRL
ARRL The National Association for Amateur Radio® was founded in 1914 as The American Radio Relay League, and is a noncommercial organization of radio amateurs. ARRL numbers within its ranks the vast majority of active radio amateurs (or "hams") in the US and has a proud history of achievement as the standard-bearer in promoting and protecting amateur radio. For more information about ARRL and amateur radio, visit www.arrl.org.
About ARES®
Amateur Radio Operators, or "hams," have a long history of serving their communities when storms or other disasters damage critical communication infrastructure, such as cell phone towers and fiber optic networks. Amateur radio functions completely independently of the internet and phone systems, and a ham radio station can be set up almost anywhere in minutes. Amateurs can quickly raise a wire antenna in a tree or on a mast, connect it to a radio and power source, and communicate effectively with others.
The ARRL Amateur Radio Emergency Service® (ARES® www.arrl.org/ares) consists of hams who have voluntarily registered their qualifications and equipment with their local ARES leadership for communications duty in the public service when disaster strikes. They use their training, skills, and equipment to prepare for and provide communications during emergencies When All Else Fails®.
Amateur Radio Newsline Report

**
ROCKALL DXPEDITION ACTIVATES IN NORTH ATLANTIC

JIM/ANCHOR: The big challenge is on!! Our top story takes us to the uninhabitable granite islet in the North Atlantic Ocean known as Rockall Island which is being activated by two amateur radio operators. Ed Durrant DD5LP takes us there.

ED: As Newsline went to production, two hams were on the air and the competition for contacts was predictably intense. It's a challenge for chasers around the world. For the hams, the challenge is even bigger: Emil Bergman, DL8JJ, and Nobby Styles, GØVJF, hope to break the record of a 46-day stay on the rock set in 2014. The pair and their expedition leader, Cam Cameron, plan to stay on the rock for as long as 50 or 60 days and raise £50,000 for charity. This coveted DX is designated IOTA Number EU-189 and is a most-wanted location. Be listening for MMØUKI - and cross your fingers that they are listening for you!

This is Ed Durrant DD5LP.

(ROCKALL EXPEDITION WEBSITE, MARK FELTON PRODUCTIONS, QRZ)

**

RADIO WAVES CARRY MESSAGE FROM A SUPERNOVA

JIM/ANCHOR: Radio waves have been known to carry some important messages over the years but one recent message, received by a research team led by scientists at Stockholm University, contained a cosmic message. Here's Ralph Squillace KK6ITB with that story.

RALPH: Scientists have picked up radio waves revealing the presence of an unusual type of supernova, a thermonuclear supernova, the kind used by researchers to measure the expansion of our universe. Not long after the supernova's discovery, scientists at the W.M. Keck Observatory in Hawaii detected helium emissions, another significant marker.

According to Sci Tech Daily, the discovery of this type of supernova, known as Type 1a (ONE A), is the first to be accomplished via radio waves. The presence of helium emissions is seen as evidence that an exploding compact white dwarf star had pulled helium from the outer layer of a companion star - the donor star - while the supernova was being triggered. That material is more commonly hydrogen.

The discovery is an accomplishment on another level too, according to researcher Erik Kool of the Stockholm team. He told the Journal Nature that astronomers have been trying to accomplish this kind of detection by radio for decades.

This is Ralph Squillace KK6ITB.

(SCI TECH DAILY, SCIENCE NEWS, NATURE)

**
HURRICANE WATCH NET NEEDS VOLUNTEERS

JIM/ANCHOR: In some parts of the US, where it's nearly hurricane season, it's also the season for volunteering to look out for them, as we hear from Randy Sly W4XJ.

RANDY: For 59 straight seasons the Hurricane Watch Net has been activating for any hurricanes that make landfall as well as helping those in any affected areas before, during, and after a hurricane. Just ahead of this year's season, the word is going out in the Southern and Eastern United States and the Caribbean - the HWN needs you! They are looking for more people who can get on the air from the areas hit by the storms.

Net manager Bobby Graves, KB5HAV, quickly offered cautionary words, telling AR Newsline, "Of course, priority number one for anyone is to do all you can to protect your property, home, family, and yourself. It's always safety first." However, if hams are safe at home or in a storm shelter, where a portable station can be set up, the net would like to hear from them. Every piece of weather data, measured or estimated, is considered to be important information by the forecasters at the National Hurricane Center.

The Hurricane Watch Net covers the Caribbean, Central America, Eastern Mexico, Eastern Canada, as well as the US Atlantic and Gulf Coast States. Hams normally operate on 14.325 MHz by day and 7.268 MHz by night. In addition to taking storm reports they also stand ready to relay any emergency or health and welfare traffic as well as relaying the latest information about storms in English and Spanish.
For more information about the Hurricane Watch Net, please visit their website, www.hwn.org (www.hwn.org).

This is Randy Sly, W4XJ

**

HAMS CLAIM DISTANCE RECORD FOR SATELLITE

JIM/ANCHOR: Two satellite enthusiasts recently logged a contact that they claim has set a new record. Neil Rapp WB9VPG brings us more.

NEIL: Two satellite enthusiasts are claiming a new QSO distance record with the SO-50 satellite in a May 24th contact that covered 5,584 km - the distance between Michigan and Northern Ireland.

Joe KE9AJ notes on his QRZ.com page that he has long had a particular enthusiasm for extreme distance satellite QSOs. He and George MIØILE were able to log one another and claim bragging rights to having beaten the previous record by 61 km. That record was set in 2018 by Jerome F4DXV and Scott N1AIA between France and Maine.

This is Neil Rap WB9VPG.

(AMATEUR RADIO DAILY, AMSAT)

**

SILENT KEY: HALL OF FAME MEMBER, CONTESTER, CHIP MARGELLI, K7JA

JIM/ANCHOR: The amateur radio community has been shaken by the loss of someone who was a familiar face, a familiar voice and a friend to many -- including those of us at Amateur Radio Newsline. Chip Margelli, K7JA, has become a Silent Key. We hear more about him from Don Wilbanks AE5DW.

DON: Chip Margelli, K7JA, was many things to many of us: A top-notch contester in numerous ARRL and CQ magazine competitions; a Silver Medalist at the 1990 World Radiosport Team Championship; and a polished operator of CW who was admitted into the First-Class CW Operators' Club. Chip, who became a Silent Key on May 25th, even achieved national notoriety outside the amateur radio community when he appeared on a US late night talk show with TV host Jay Leno 2005 in an on-screen rivalry that pitted his CW proficiency against the speed of the US champion in fast cell phone text-messaging.

A recipient of the E.T. Krenkel Medal in 2021, Chip was also listed in the CQ Amateur Radio Hall of Fame. Over the years he worked for such companies as Yaesu USA, Heil Sound, Ham Radio Outlet and for CQ magazine. He was a personal friend to many of us at Amateur Radio Newsline. Chip was present in 1986 with Newsline cofounder and treasured friend the late Bill Pasternak, WA6ITF, at the first ceremony introducing the Young Ham of the Year Award and at subsequent ceremonies at the Huntsville Hamfest.

Rest well, Chip. You leave many grieving friends behind.

This is Don Wilbanks AE5DW.


**
RADIO SOCIETY OF GREAT BRITAIN SEEKS EDITOR

JIM/ANCHOR: If you are a member of the Radio Society of Great Britain and have strong skills in writing and editing - plus technical knowledge relevant to electronics and amateur radio - this job might just suit you. Jeremy Boot G4NJH has the details.

JEREMY: Lee Aldridge, G4EJB, the editor of RadCom Basics, has announced his retirement later this year and the RSGB is seeking a replacement. RadCom basics publishes material focusing on new amateurs and those who want to develop greater skills in the fundamentals. A successful applicant will assign articles and work with authors in developing them and will be responsible for writing additional articles There are also editing responsibilities that include handling copy sent in by regular contributors and others.

The RadCom Basics editor reports to RadCom's managing editor. For details about the job, including salary range being offered, send an email to radcom at rsgb dot org dot uk. (radcom@rsgb.org.uk)

**

TRY NEWSLINE'S HAIKU CHALLENGE

JIM/ANCHOR: What's almost as good as perfect propagation? How about....a ham radio haiku! We're inviting listeners to channel their most creative selves and share the joy of ham radio in the form of a haiku. On our website, arnewsline.org, you will find a submission form for sending your most poetic offering. Be sure you follow the traditional form to qualify: The first line is five syllables, the second line is seven syllables and the finishing third line has another five syllables.

Our team will pick from the best submissions that follow the 5/7/5 syllable rule and represent the love of amateur radio. Your prize? Fame and glory, of course -- and a featured spot for your haiku on the Amateur Radio Newsline website. Visit our website at arnewsline.org to see this week's winning haiku.

**
CALIFORNIA AMATEUR FACES $24,000 FINE

JIM/ANCHOR: A California amateur is facing a $24,000 fine from the FCC which has charged him with deliberate interference with a regularly scheduled 80 meter net held by the Western Amateur Radio Friendship Association. Philip J. Beaudet, N6PJB, is said to have repeatedly interfered with the net and failed to identify himself by his callsign. They released a Notice of Apparent Liability for Forfeiture on May 30th, outlining the case against him. The agency said that last November and December, an agent from the San Francisco Field Office used direction-finding on 3.908 MHz and on both occasions was able to identify the ham's Burney, California, home as the source of the interference cited in repeated complaints to the agency.

The notice states that Beaudet has 30 days to respond either with payment or a written statement seeking a reduction or cancellation of the proposed forfeiture.

(FCC, RADIO WORLD)

**

BELGIAN HAMS GAINING 8M BAND ACCESS

JIM/ANCHOR: Some new space on the spectrum awaits amateurs in Belgium and Jeremy Boot G4NJH has that story.

JEREMY: Hams in Belgium will soon be enjoying the privileges enjoyed by those in South Africa, Slovenia and Ireland by gaining access to the 8-metre band. The UBA, the Royal Belgian Amateur Radio Union, has proposed giving hams with a Class A operating certificate, a HAREC full licence, the ability to get on the air with as much as 5 watts ERP and a bandwidth limit of 3 kHz. Permission is to be granted to individuals following approval from the Belgian regulator BIPT.

The frequency range being authorised is between 40.660 and 40.690 MHz.

This is Jeremy Boot G4NJH.

(AMATEUR RADIO DAILY)

**
HOSPITALIZED CHILDREN HAVE ARISS QSO WITH SPACE STATION

JIM/ANCHOR: Hospitalized children outside Washington, D.C., were given a chance to talk with an ISS astronaut recently on amateur radio. Patrick Clark K8TAC tells us how things went.

PATRICK: Having fulfilled the first part of his space mission a few days earlier - to arrive on board the ISS - astronaut John Shoffner, KO4MJC, got under way with one of his next goals: to share the joys and opportunities of STEM studies as an educator. On May 26th, he shared that view from space through a QSO with youngsters at the Children's Inn in Bethesda, Maryland. It was a telebridge contact that made use of a ground station in Belgium with the callsign ON4ISS. The youngsters at the Children's Inn learned about life in space and got a closer look too at the way amateur radio can connect people. The Children's Inn provides a free residential environment to children and young adults who are patients at the National Institutes of Health as a means of reducing stress on the young patients and furthering the institutes' clinical research. With the help of ARISS and amateur radio, the youngsters also got a view of the great things that can happen beyond the bounds of planet Earth.

This is Patrick Clark K8TAC.

(ARISS, FACEBOOK)

**
NEW SITE CONSOLIDATES HAM CLUBS' NEWS

JIM/ANCHOR: We were saddened some time ago by the passing of Richard G4TUT, whose Southgate Amateur Radio News website served as a reliable global bulletin board for many, including amateur radio podcast teams. This badly missed resource is now being revived and provided by Cale K4HCK through his new "Amateur Radio Daily" website. Once the domain name is transferred from Southgatearc, its URL will also route you there. This is a new resource available for hams and clubs looking to get word out about their activities. So if you want other hams to see what your club is up to, visit Amateur Radio Daily at daily.hamweekly.com or simply send the story directly to Cale via email to K4HCK (at) hamweekly (dot) com. Cale's new website will display the submitted stories and provide an RSS feed to receive daily updates automatically as they arrive and are posted.

(CALE, K4HCK)

**

WORLD OF DX

In the World of DX, be listening for VU7W, the call being used by Yuris, YL2GM, on Minicoy Island, IOTA Number AS-106, in the Lakshadweep Islands. He will be on the air throughout June focusing on the 6m band, with some operation on other HF bands. QSOs are to be uploaded to LoTW.

Special event station IQ3UV is on the air now through June 11th using CW and SSB on all the HF bands, marking the 100th anniversary of the founding of the Alpine group of Tolmezzo and the Carnia section. A certificate will be available as a downloadable PDF for all stations who make contact. For other details, see QRZ.com

Be listening for Dan, F5DBT, on the air as MM/F5DBT from several islands off Scotland's west coast until the 15th of June. He will operate SSB, FT8 and FT4 on 40, 20, 15 and 10 metres. QSL information is available on QRZ.com

Ric, DL2VFR, and Fred, DL4BBH, will operate as LA/DL2VFR and LA/DL4BBH from IOTA group EU-061 and the Ytre Hvaler (EE-trah Valla) National Park in Norway from the 2nd to the 6th of June. They will be using CW and SSB. This is an IOTA and World Wide Flora & Fauna Expedition. QSL details are available on QRZ.com

(425 DX BULLETIN, QRZ.COM)

**
KICKER: FROM POUNDING THE BRASS TO WINNING THE BRASS

JIM/ANCHOR: For our final story, we talk to a ham who took a test that may have been just a little bit harder than the one for his amateur license. Plus, it was on national TV. Graham Kemp VK4BB tells us how it all played out.

GRAHAM: CW has always been a perfect fit for Richard Ayre, VK6PZT, since he became a ham 10 years ago. Unaccustomed as he is to speaking publicly on or off the air, he is most comfortable when he lets the dits and the dahs do his talking for him. So why would he opt to get on the air - in this case, on a national TV programme - where he had to answer questions and even trade gently disparaging remarks with the host, in a kind of sledging worthy of any cricket pitch? It's because the Australian hit show, "Hard Quiz," would test his trivia knowledge about his beloved CW. Oh -- and because his two daughters asked him to.

On Wednesday, the 31st of May, TV fans watched the medical sonographer square off in the Melbourne studio against three other contestants who, like him, were originally from England, Australia's rival this month in the Test Series cricket matches. So he studied hard in pursuit of the show's coveted Brass Mug. As he told Newsline recently: [quote] "I challenged myself to find out something new about Morse Code once per day for about one year prior to the show and made notes in a small blue book. I asked my family and friends at our local Bunbury Radio Club to come up with the most obscure questions possible for me to answer." [endquote] In fact, he said: [quote] "I think if I spent as much time practicing my head copying as I did reading about how the code was developed or used over the last 100 years I would be a much better operator." [endquote]

No worry there: Richard scored a strong victory and got to take away the huge 5kg mug. Now instead of pounding the brass, he'll said he'll be drinking from it.
"He Touched So Many Lives" Chip Margelli, K7JA (SK)
The airwaves are markedly dimmer this week, social media is filled with heartfelt tributes, and industry leaders are mourning. Longtime fixture of amateur radio Charles "Chip" Margelli, K7JA, passed away after a brief illness. Margelli was an ARRL Life Member.
"The light and love of my life is gone," Margelli's widow Janet, KL7MF, posted on Facebook. "He enjoyed 60 wonderful years as a ham and 45 happy years with me. Between DXing, contesting, ragchewing, moonbounce, satellite, writing, designing, building antennas, and Field Day, there was never a dull moment," she wrote.
Margelli was well known in the amateur radio industry. His friendly approach and love of customer service marked his professional career. He served for 29 years at Yaesu Musen Co., Ltd. until becoming the Director of Sales and Marketing for Heil Sound Communications Inc. in 2006. In 2010, he joined CQ Communications Inc. as the Director of Advertising Sales. Later in his career, he worked with InnovAntennas before retiring from Ham Radio Outlet as an I.T. Specialist in 2022, according to his biography.
"Chip was a great contester," said ARRL Director of Operations Bob Naumann, W5OV. Margelli held first place in many national radiosport contests. "He never had anything bad to say about anyone. He was a fixture at all [of] the big events and was just a great guy to be around," said Naumann.
His love of people took him around the world on DXpeditions and missions of goodwill related to amateur radio. In 1984, he was instrumental in helping the Chinese Radio Sports Association re-establish amateur radio in China. He served a similar role in Albania and operated from Cuba. In 1990, Margelli and his teammate Mike Wetzel, W9RE, won a silver medal at the first-ever World Radiosport Team Championship, held in conjunction with the Goodwill Games in Seattle.
His operating prowess spanned modes, cultures, and languages. "Chip was a real DXer who could be eating an ice cream sandwich while sending CW at 50 WPM, all while watching his smartphone for DX spots and carrying on a conversation with a visiting ham," said instructor Gordon West, WB6NOA. "When working phone, he would speak Japanese when the band was open to the west and speak Russian [to] an early morning 20-meter contact, and [then] Spanish when working stations to the south – plus, more languages [than] I could ever figure out, with a perfect accent," West added.
Margelli was genuinely curious about many subjects. "If someone brought up a topic about who knows what, he would just go with it.," said Janet Margelli. "There didn't seem to be anything that did not interest him," she said. Margelli is remembered as someone who "just loved people [and] loved entertaining them," she said.
In May 2005, Margelli took amateur radio to global late-night TV. On an episode of The Tonight Show, host Jay Leno pit Morse code against SMS text messaging to see which was a faster way to communicate. Margelli went up against the US champion cell phone text messenger. Long time friend Katie Allen, WY7YL, said Margelli didn't feel pressure to perform for the global audience nearly as much as he did for fellow hams. "He always told me that it was kind of thrown together at the last minute, the biggest pressure was that Dayton Hamvention® was right after and if he blew it, he didn't want to show his face at the event," said Allen. He didn't blow it - Margelli and his partner Ken Miller, K6CTW, beat the speed of the text messengers.
Margelli is a 2018 inductee to the First Class CW Operators' Club (FOC), a 2021 recipient of the E.T. Krenkel Medal, and was inducted into the CQ Magazine Amateur Radio Hall of Fame in 2006. He was a life member of AMSAT and the Quarter Century Wireless Association.
More than his impressive career as a radio amateur, those closest to Margelli are mourning the loss of a man they describe as caring and compassionate - always willing to help creatures big and small. "Chip and Janet have a beautiful yard. I remember one time he ran out in a pouring rainstorm to cover a bush that had Monarch butterfly larvae in it," said Allen. "Who else would get soaking wet just to make sure butterflies make it through a rainstorm?" she said. Allen once was in need of a kidney transplant, and Margelli offered up his own. "He called my husband - before they even met and said, 'If Katie needs a kidney, I have an extra,'" recounted Allen.
There has been an outpour of messages and remembrances of Margelli circulating on social media. While reaching out for this article, ARRL received many thoughtful comments about Margelli that cannot fit within one story. We have assembled some of the photos and writings on the ARRL Facebook page and YouTube channel, where users are encouraged to share their memories to honor the impact Margelli had on them.
As Margelli was privately battling cancer, he was spending time building cables and other equipment for ham clubs to use in the upcoming ARRL Field Day 2023. His final acts of service will be put to good use in the operating event. Janet Margelli said there is not a memorial service planned. "If Chip were here, he'd say the best way to honor him is 'just go kick butt on Field Day.'"
Recycling batteries could reduce the need to mine critical minerals—but only if the packs are properly recovered.
The race to electrify the world's vehicles and store energy will require batteries — so many of them, in fact, that meeting the demand we will see by 2040 will require 30 times the amount of critical minerals like lithium, cobalt, and nickel that those industries currently use.
That presents an enormous challenge, one exacerbated by the mining industry's alarming allegations of labor crimes, environmental destruction, and encroachments on Indigenous land. There are ways to mitigate electrification's extractive impacts, one of which may seem obvious: Recycle every battery we make.
Doing so would reduce the world's need to mine these minerals by 10 percent within 16 years, because the critical materials in batteries are infinitely reusable. Eventually, a robust circular battery economy could all but eliminate the need to extract them at all.
Of course, that would require recovering every EV pack at the end of its life, a sizable undertaking as the United States prepares for hundreds of thousands of electric vehicles to retire by the end of the decade. A nascent ecosystem of startups is working toward that goal, and the Inflation Reduction Act includes tax credits to incentivize the practice. But some electrification advocates say those steps do not go far enough. While the European Union recently passed a regulation mandating EV battery recycling, there is no such law in the U.S. Proponents of a federal recycling standard say that without one, batteries that could be recycled might get left behind, increasing the need for mining and undermining electrification's environmental benefits.
"We need a coordinated federal response to truly have a large-scale impact on meeting our demand," said Blaine Miller-McFeeley, a policy advocate at Earthjustice, which favors a federal recycling requirement. "If you compare us to the EU, we are woefully behind and need to move much more quickly."
That movement would have to come from Congress, according to Miller-McFeeley. Historically, however, regulating recycling has been left up to the states and local jurisdictions. The Biden administration has instead been supporting the country's budding EV battery recycling industry, mainly by making it good business to recover critical materials.
Daniel Zotos, who handles public advocacy at the battery recycling startup Redwood Materials, said in an email that a healthy market for recycled materials is emerging. "Not only is there tremendous value today in recycling these metals, but the global demand for metals means that automakers need to source both more mined and recycled critical minerals."
Zotos said Redwood Materials agrees with the approach the federal government has taken. "The U.S. has in fact chosen to help incentivize, rather than mandate, recycling through provisions established in the Inflation Reduction Act, which we're deeply supportive of."
During a pilot project in California last year, the company recovered 95 percent of the critical materials in 1,300 lithium-ion and nickel metal hydride EV and hybrid batteries. The cost of retrieving packs from throughout the state was the biggest barrier to profitability, but Zotos said that expense will subside as the industry grows.
The Department of Energy wants to establish a "battery ecosystem" that can recover 90 percent of spent lithium batteries by 2030. It has granted billions in loans to battery recyclers to build new facilities. Automakers are incentivized to buy those recyclers' products, because part of the federal EV tax credit applies only to cars with batteries that include a minimum amount of critical minerals that were mined, processed or recycled in the U.S. or by a free-trade partner. Manufacturers also get a tax credit for producing critical materials (including recycled ones) in the U.S.
THURSDAY EDITION: This morning we are going to mount a Diamond 10-80 meter vertical antenna at the club. At about $379, a bit pricey for a dummy load but we will see what it does. It is about 20 feeet tall with a balun, 4.5 pounds, and rated for 80mph winds. Pictures later in the day if I don't fall off the ladder....I have been listening here and there on 6 meters and Im have heard a few 4 land beacons and a few cw stations as well as digital crap, where are the ssb guys hiding?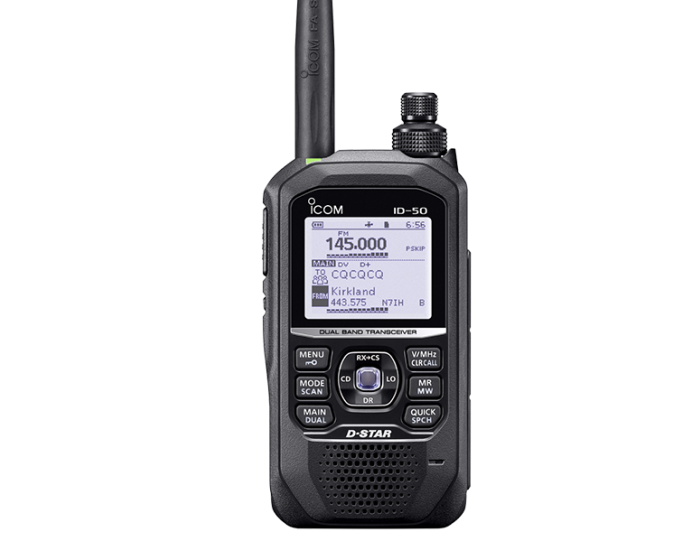 NEW Icom ID-50A VHF/UHF D-STAR Handheld Transceiver
Enhance your QSO experience with Icom's newest handheld, the ID-50A. This compact, entry-level DSTAR dual-bander, 2m/70cm, is a perfect introduction to the world of ham radio operation. Beginners will love the easy D-STAR settings, band scope with waterfall display, Share Picture function (requires STID50A/W app), Dualwatch, and more. Optional accessories are also compatible with the ID-52A, ID-51A,and ID-31A.
The ID-50A brings the fun of the D-STAR Experience! By connecting to a D-STAR (Digital Smart Technology for Amateur Radio) network, you can call a friend in another city, or other regions around the world. Use the Terminal Mode and Access Point Mode for building your own internet gateway to access the D-STAR repeater network, even in an area with no D-STAR repeaters nearby. The D-STAR DV mode can send not only voice, but also image data. Photos from a smart device can imported into the ID-50A/E using the ST-ID50A/W picture utility software to exchange photos and QSL cards.
The ID-50A's Band Scope and Waterfall displays can visually show active channels with a wide span and timeline, so it is easy to find active channels by sight. The Dualwatch function doubles QSO opportunities to monitor VHF/VHF, VHF/UHF and UHF/UHF bands at the same time. The ID-50A can receive both the Airband and the FM bands. Large capacity battery pack, BP-307 for the IC-705 is usable as well.
Global communication reach using the D-STAR network
Easy D-STAR settings help beginners
Terminal Mode and Access Point Mode
Share Picture function with the ST-ID50A/W picture utility software
Band Scope with Waterfall display
Dualwatch function of VHF/VHF, VHF/UHF and UHF/UHF
VHF Airband and FM broadcast receiver capability
Same optional accessories can be shared with the ID-52/ID-51/ID-31 series transceivers
*This product has not been approved by the FCC. This is not an offer to sell this product
*Pre-release information shown. Specifications subject to change.
Back Seat Shack -- Going Portable
Going portable to do a POTA or activate a grid is much easier and cheaper than you probably think! If you've never done it, you should get out of the shack and give it a try. It's an experience every ham should have. Warning: you may get hooked!
Sadly, my days of portable operations are over and done. But I still recommend "car portable" for an easy start. Yes, picnic benches, wire antennas in trees, and plastic sheeting to protect the rig from rain can be lots of fun. But for simplicity, convenience, and all-around ease of operation, the Back Seat Shack can't be beat! Caution - please do a close-to-home shakedown cruise before you launch into the wilderness. You'll be glad you did. The little gremlins are easier fixed at home than miles away
Since you are on-air, you already have the most expensive items for car portable. Most current HF rigs run on 13.8 volts DC so your current home station transceiver will most likely be suitable (provided it isn't a boat anchor!). If you use a laptop for rig control or logging, or are into digital modes, you're all set in the "big equipment". If you don't use a computer…well, you are all set too!
Assuming you have the "big equipment," all that's left is a suitable antenna setup and a power source. Let's talk about antennas first. The quickest, easiest, and cheapest answer is a hamstick on a mag mount in the center of your vehicle roof. You're not going to be driving around with this setup on the roof, so you don't need guy lines or to put out radials. I've never been confronted by anyone about permissions or permits and doubt you will be - unless you're parked in a No Parking Zone. You are totally self-contained and there is nothing to cause concern.
Is a hamstick the equivalent of a full-size wire dipole up in the trees? No, but it will do a great job on 40m or up where most of our activity happens. I have used this setup to work Europe, Alaska, Hawaii, South America, and even Oceana from all over the CONUS - all with 35W PSK. If the bands are open, USA, Mexico, and Canada are a breeze in all modes.
Positioning is important with a mag mount antenna. Center of the roof is where it should be. That gets max metal centered under your antenna for a counterpoise and gives the best omnidirectional pattern. Don't worry about all the grounding and bonding of body parts you hear about for mobile ops. It will work just fine without all that. And since you are parked with the engine off, you aren't generating QRM from your car's systems.
I use a 5" Hustler MBM mag mount (about $35 these days) and the hamsticks screw directly into it. As an aside, Lakeview Co. originally made HamSticks but they are no longer in productions. The equivalent is a MFJ HamTenna (MFJ-16xxT HF Stick where the xx equals the band) and while some don't like MFJ products, I have never had a problem with their HamTennas. And most everyone still calls the HamTenna a hamstick!
One issue that will have to be addressed is Common Mode Current on your coax. Since the HamTenna is an unbalanced antenna, it will try to use the coax for the other side. The easy solution is a 1:1 UnUn. This can take the form of a home brew "Ugly Balun" (turns of coax on an air core – lots of plans on the web) but I chose to buy a commercial choke from Balun Designs – Model 1110 – about $65. It is good to 300 watts. I cut the mag mount coax at about 12" and attached a PL259. That lets me put the choke on the roof right next to the antenna and then run a short coax into the back seat of the car. And the choke solved my RF into the computer problem as well!
I carry a 40m, a 20m, and a 15m HamTenna for my portable ops. With those 3 bands, I can always find activity. Tuning a HamTenna can be a bit tricky. Tune with it in place on the roof, with the choke in line. It is easiest with an antenna analyzer like an MFJ 259b, or a Rig Expert. But the smart money these days use one of the new NanoVNAs – much, much cheaper than the old antenna analyzers – and a must for every ham! You tune the HamTenna by lengthening or shortening the whip portion. Remember: "to lower the frequency, lengthen; to raise the frequency, shorten." I had trouble getting the 40m stick tuned in the low end of the band. The whip wasn't long enough. Since I wanted it resonate (so to not need an antenna tuner), I soldered a piece of solid copper wire to an alligator clip, attached the clip to the end of the whip, and trimmed it to resonance. I could have used my rig's ATU, but wanted to radiate as much RF as I could.
So, we have the "big equipment" and the antenna system in place. We only need a power source. The obvious answer is to use the car battery. But there are some issues doing that. First, when parked and operating, you probably won't be running the engine. That creates the potential to run the battery down and being unable to start the car when you are ready to go. That's not a desirable situation when you may be miles from help or a jump to get you started. There are commercially available battery isolators that solve that problem. I chose a different approach that overcame another issue in powering from the car battery.
The issue is your HF rig will probably (at least some of the time) draw more amperage than your car wiring is designed to handle. That means either installing direct wiring from the battery (WITH PROPER FUSING!) or replacing fuses with higher amp fuses. DON'T DO THAT! Fuses are designed to protect you and your car. If you replace a fuse with higher amp fuse, you risk an electrical fire in your car's wiring!
My answer was to use a separate battery for the radio. Initially I used a deep cycle marine battery set in the rear seat passenger's footwell. They are heavy, but since you are "car portable" who cares? The downside was that they only lasted about 3 years before they were junk. Then I heard about Lithium Iron Phosphate batteries. I bought a Bioenno Power 12Ah battery (about $125 as of this writing) and it will run my Elecraft K3 at 35W for about 7 hours 50-50 cycle before it needs recharging. These batteries require a special charger, also available from Bioenno (about $25). Note: Bioenno Power has a handy sizing chart for Ham Radio on their FAQ page.
Interestingly, I found my limiting factor for off-the-grid portable was my laptop battery. Some of the contributing factors were the need to run the display all the way bright because of sunlight and using WiFi and internet. A screen shade, turning off WiFi and going without internet helped, but the laptop battery was always my limiting factor. There are laptop power supplies designed to run off 12V. But the truth is I generally burned out about the same time as the battery went south! So I never made the investment.
I found a couple of other items that made my back seat ham shack better – a 9" folding step stools for putting the mag mount on and off the roof and a lap desk. Amazon has a ton of options for both.
Going car portable is easy, inexpensive, and you probably have most of what you'll need. Give it a go! You'll be glad you did! 73,
Rick – N7WE
WEDNESDAY EDITION: I will update a little later, I have some business to take care of...
A California man faces a possible $24,000 fine for allegedly playing recordings during an amateur radio net and not providing his call sign.
Philip Beaudet has been issued a notice of apparent liability by the Federal Communications Commission for "apparently willfully and repeatedly interfering with the radio communications of the Western Amateur Radio Friendship Association while it was attempting to hold a regularly scheduled net and for failing to provide station identification on amateur radio frequencies."
Beaudet is licensee of N6PJB in Burney, Calif. A net is an on-air meeting of local amateurs.
The FCC said it received numerous complaints about Beaudet. It says that its agent went to Burney three times in late 2022 and in each case heard Beaudet playing recordings on 3.908 MHz that caused interference to the WARFA net while failing to provide his own call sign.
It said he has 30 days to pay the proposed fine or to respond with reasons it should be reduced or cancelled. "We caution Beaudet that future violations of this kind may result in significantly higher forfeitures or revocation of his amateur license," it added.
JUST THINKING:
I mowed the lawn today, and after doing so
I sat down and had a cold beer.
The day was really quite beautiful, and the drink facilitated some deep thinking.
and I said, "Nothing."
The reason I said "nothing" instead of saying "just thinking" is because she then would have asked, "About what?"
At that point I would have had to explain that men are deep thinkers about various topics, which would lead to other questions.
Finally I pondered an age old question: Is giving birth more painful than getting kicked in the nuts?
Women always maintain that giving birth is way more painful than a guy getting kicked in the nuts, but how could they know?
Well, after another beer, and some more heavy deductive thinking, I have come up with an answer to that question.
Getting kicked in the nuts is more painful than having a baby, and even though I obviously couldn't really know, here is the reason for my conclusion:
A year or so after giving birth, a woman will often say, "It might be nice to have another child."
But you never hear a guy say, "You know, I think I would like another kick in the nuts."
I rest my case.
Time for another beer. Then maybe a nap.


TUESDAY EDITION: I think we all had a nice weekend except for the Celtics....George & Mike's Excellent Adventure:
George & Mike cover the premiere Hamfest of the season, Hamvention 2023. Visits with friends and vendors. Plus some great new finds you may not be aware of. Hamvention is always a fun, entertaining event and this year was no different.
https://amateurlogic.tv
DX Foundation to Offer Grants to Mitigate QRM
The Northern California DX Foundation is preparing to offer $100,000 in grants to help mitigate deliberate interference in amateur radio activities.
NCDXF will entertain grant proposals from individuals and/or groups that specifically outline their approach to identify bad actors. A group of directors led by Craig Thompson (K9CT) and Don Greenbaum (N1DG) will weigh the probability of success of these proposals as well as monitor the progress of the grantees.
Funding is available for [research and development] as well as implementation of the technology. It is hoped that manufacturers will also assist us with equipment and resources