EHAM QTH QRZ ARRL HRO ICOM KENWOOD YAESU 6PM 145.130 NET
WEEKEND EDITION: I have been tied up with some untimely deaths in the family, my sister-in-law and my son's french bulldog on the same day....
Radio Amateur Dr. Kristina Collins, KD8OXT, Earned PhD in Electrical Engineering
Dr. Kristina Collins, KD8OXT, earned her PhD in Electrical Engineering from Case Western Reserve University on November 18, 2022. Dr. Collins' thesis, Development of a Low-Cost Meta-Instrument for Distributed Observations of Ionospheric Variability, focuses on the development of the HamSCI Grape Personal Space Weather Station Network. Ham Radio Science Citizen Investigation (HamSCI) serves as a means for fostering collaborations between professional researchers and amateur radio operators. Dr. Collins currently serves on the HamSCI advisory board, leads the HamSCI Eclipse and Frequency Measurement Festivals project and WWV/H Scientific Modulation team, and served as chair of the local organizing committee for the 2019 HamSCI Workshop. She has been interviewed on ARRL's Eclectic Tech podcast and has peer-reviewed papers published in the American Geophysical Union's Eos magazine and the IEEE Geoscience and Remote Sensing Letters. She's excited to be joining the Space Science Institute in the spring of 2023 as a postdoctoral research fellow through the National Science Foundation Office of Polar Programs. Dr. Collins was first licensed in 2010 and now holds an Amateur Extra-class license. --Thanks to HamSCI for information contained in this story.
Amateur Radio Newsline Report

ORBIT TROUBLES FOR AMATEUR RADIO MOON LANDER

STEPHEN/ANCHOR: We begin this week in space, where a troubled orbit has detoured a Japanese amateur radio project that was heralded as the world's smallest moon lander. Jason Daniels VK2LAW brings us that report.

JASON: OMOTENASHI, developed by the JAXA Ham Radio Club in Japan, carried the promise of putting amateur radio on the moon's surface when it launched on November 16th from Kennedy Space Center in the US. Now the chance to transmit a beacon in the amateur radio 70cm band from a lunar QTH has been put into question.

The CubeSat was a secondary payload aboard NASA's Artemis 1 mission. In English translation from Japanese, the ham radio club's website for JAXA, Japan's Aerospace Exploration Agency, reports that orbital errors have resulted in an unstable radio signal for its communications. The website also reports that the solar cells face away from the sun, making it problematic to charge OMOTENASHI's batteries.

Having missed the chance for a moon landing, organisers are regrouping. The website reports that data from OMOTENASHI will be analysed to unearth a possible cause of what happened. The report said that the team believed that the axis of rotation is stable and that the spacecraft will get sunlight when the direction of the sun changes. They expect that will happen next March.

This is Jason Daniels VK2LAW.

(JAXA AMATEUR RADIO CLUB)

**

HOMEBREW CUBESATS ARE A 'FIRST' FOR LAUNCH IN INDIA

STEPHEN/ANCHOR: Indian radio amateurs and space enthusiasts had a proud moment when a rocket launch for an ocean-monitoring satellite had a pair of homegrown amateur radio CubeSats along for the ride. Here's Jim Meachen ZL2BHF with details.

JIM: Members of the Star Fleet Amateur Radio Club, National Institute for Amateur Radio, Indian Institute of Hams, West Bengal Radio Club and the Indian Academy of Communication and Disaster Management were among the hundreds of amateurs across India watching eagerly on Saturday, November 26th as an Indian Space Research Organisation mission lifted off from the Satish Dhawan Space Centre. Although the primary payload was an ocean observation satellite, the varied secondary payload also included two satellites that Indian news media were praising as the nation's first homegrown amateur satellites to be launched aboard an Indian space vehicle.

The nanosatellites had been built in Hyderabad (Hy-Dra-Bod) by Druva Space, founded by four radio amateurs 10 years ago. The CubeSats have a combined mass of 1.45 kilograms and each is no larger than 10 by 10 by 5 centimeters. Hams will be able to use their store-and-forward messaging system.

Dhruva's CEO Sanjay Nekkanti AB3OE / VU3ISS told one news outlet that this mission was extremely important to those who designed and built the satellites and said the hams will be testing them out following their deployment into low earth orbit. Sanjay said [quote] "This is a way for us to give back to the ecosystem." [endquote] He said he hoped the mission would also encourage more people to get involved in amateur radio and the sciences.

This is Jim Meachen ZL2BHF.

(THE PRINT, REPUBLIC WORLD, NASA SPACEFLIGHT.COM)

**
SWITZERLAND PREPARES FOR SHUTDOWN OF FM RADIO

STEPHEN/ANCHOR: Just as the nature and the technology of amateur radio keeps evolving so too is the landscape changing for broadcast FM. Jeremy Boot G4NJH has that story.

JEREMY: Switzerland is preparing for the shutdown of its FM radio services as Swiss listeners join the ranks of those in Norway and in the UK who now tune into DAB+

The nation's switchover from FM/analogue to DAB+/digital radio was the subject of discussion at the recent WorldDAB Summit, a digital radio industry forum held in London in early November. Norway's P4 radio led the charge in that nation more than five years ago, embracing the multiple channels from one transmitter, a lower cost way to keep station programming on the air.

Switzerland's move comes just as the broadcast licences for the nation's radio stations expire at the end of 2024. Broadcasters see the switch as a way to save money while increasing the reach and the variety of the programme content. There will be no simulcasting on FM and digital.

In a report in Radio World magazine, Swiss broadcaster Nicola Bomio said he was worried that the change would cost the stations listenership. Others said they wondered whether listeners living on the border with France would simply tune in to stations there.

This is Jeremy Boot G4NJH.

(RADIO WORLD MAGAZINE)

**
12 DAYS OF CHRISTMAS SPECIAL EVENT IS BACK

STEPHEN/ANCHOR: If you're counting down the days until Christmas, here's a little help with counting things down. Just count to twelve - for the return of the popular 12 Days of Christmas Special Event. Mike Askins KE5CXP tells us how to get in on the action.

MIKE: Is that a partridge in the pear tree, or did someone just hang a dipole in its place? And are those nine drummers really drumming....or are they actually DXing? With the return of the 12 Days of Christmas Special Event this year, you just can't be sure what those nine drummers, ten pipers or seven swans are up to, but we do know that hundreds of hams around the world will be listening for them. Their special-event call signs will be on the air for a fourth year starting on December 14th and ending on Christmas Day, December 25th. Operators will be using CW and SSB and making use of one satellite. As in previous years, they will be using 1 x 1 calls that begin with either a W or a K -- but this year things will be easier for those who wish to rotate their beams: The calls will also contain a stroke and the operator's numerical call area. So get ready to start listening for all those calling birds -- and earn a downloadable certificate to make the season as bright as those five golden rings.

This is Mike Askins KE5CXP.

(SALLI ROSATO, K2RYD)

**

DECEMBER IS YOTA MONTH

STEPHEN/ANCHOR: December is going to be a busy month for the younger generation of amateur radio operators around the world. Using the YOTA suffix - Y O T A - in their call signs, hams ages 25 and younger will be on all the bands using all the modes at various times of the day and night. At any given time you will be able to hear Argentina's young amateurs using LR1YOTA, hams in Honduras using HQ2YOTA or young operators in El Salvador calling QRZ as YS1YOTA. Here in the United States, the call signs will be K8Y, K8O, K8T and K8A, with the single-letter suffixes spelling "YOTA."

Last year's young amateurs logged 119,516 QSOs. Can they top that this year?

The month will also present them with challenge of Round 3 of the YOTA contest, which will take place on the 30th of December from 1200 to 2359 UTC.

For more details, follow the link in the text version of this week's newscast script at arnewsline.org

(YOTA.COM)

**
AUSTRALIANS ON THE MOVE WITH A PTOTA ACTIVATION

STEPHEN/ANCHOR: Amateur radio can be very portable and very public, as we know. Now an awards program created by a group of amateurs in Australia combines both -- in a very practical way. John Williams VK4JJW explains.

JOHN: You can trade the trails and the treetops for trains and trams thanks to an awards programme from the School Amateur Radio Club Network, VK3SRC. It's called Public Transport On The Air - PTOTA (pronounced "puh-toe-tah") - and it encourages students and other commuters to grab their handhelds and call CQ while enroute to their destination on some means of public transportation. Contacts can be made via digital or analogue voice modes and can utilise any netwok or device. The only requirement is to have the QSO on an amateur band.

Based in Australia, the club network unites schools in which students belong to an amateur radio club. The clubs are promoted and assisted by Julie VK3FOWL and Joe VK3YSP. SARCNET administers a number of programme awards, including PTOTA. PTOTA awards are issued as annual certificates. Participants' points are re-set every 1st of the year.

The SARCNET website encourages students to make ham radio visible to the public in this way but does offer two important caveats: Before leaving the train or tram, check your seat for any equipment you may have left behind -- and perhaps, more importantly, try to avoid morning and afternoon rush hour.

Additional details are available at sarcnet.org

This is John Williams VK4JJW.

**

YOUTH ON THE AIR CAMP APPLICATION PERIOD OPENS

STEPHEN/ANCHOR: Young amateur radio operators in North, Central and South America are being invited to plan for a memorable time in Canada this coming July: Applications are now open for the third Youth on the Air camp, which is open to licensed radio amateurs between the ages of 15 and 25. The camp will be held on the campus of Carleton University in Ontario, Canada from July 16th through to July 21st.

The application process is free and allocations are being held for campers from each of the three Americas to allow for attendance from countries throughout IARU Region 2. For the best chances at being chosen, prospective campers are being encouraged to apply by January 15th. The application process will however continue through to May 31st.

To apply - and to read details about making separate arrangements for transportation - visit YouthOnTheAir dot org (YouthOnTheAir.org)

(YOUTH ON THE AIR CAMP)

**

OFCOM EXTENDS EXPERIMENTAL ACCESS

STEPHEN/ANCHOR: The telecommunications regulator in the UK delivered some good news to amateurs who enjoy experimenting on the air. Jeremy Boot G4NJH tells us what they learned.

JEREMY: Amateurs who hold a Full licence in the UK will be eligible to use the frequencies between 146 to 147MHz after receiving a Notice of Variation from Ofcom. In some restricted areas operational limitations exist. The notice is available on a temporary basis only and is subject to a 30-day notice period that it is being changed or withdrawn.

By making this part of the spectrum available, Ofcom is hoping to encourage experimentation by radio amateurs, allowing them to experiment with new technologies such as digital voice and data transmissions having moderate bandwidth. Ofcom defines "moderate" as being up to 500 kHz wide.

The one-year Notice of Variation was first made to full licensees in October 2014. The Radio Society of Great Britain said that it is pleased that Ofcom has accepted its latest request to extend the agreement. NoV applications are made via the RSGB website at rsgb dot org slash nov (rsgb.org/nov)

This is Jeremy Boot G4NJH.

**
MUSEUM'S HAM STATION GETS ARDC GRANT

STEPHEN/ANCHOR: The Museum of Information Explosion in Huntsville, Alabama, is getting a modernized amateur radio station that will feature digital technology to complement the more traditional gear being showcased in the museum's other exhibits. The station is being established with the help of a $16,000 grant from Amateur Radio Digital Communications and is designed to show how ham radio is surviving by changing with the times. The museum is set to open early next year. Various local ham radio clubs, including the Radio Club of the Museum of Information Explosion, will serve as docents for visitors and will also go on the air from the station.

(ARDC)

**

OTTAWA OPERATOR ADDED TO HALL OF FAME

STEPHEN/ANCHOR: An amateur radio operator from Ottawa, Canada has just been chosen for the Canadian Amateur Radio Hall of Fame. Dave Parks, WB8ODF, tells us about him.

DAVE: The name of Bryan Rawlings, VE3QN, is being added to the roster of those who have contributed to amateur radio consistently over the years as both an advocate and a participant. First licensed in 1959 as VE2AME, Bryan returned to active participation in Canadian amateur radio in 2002 after years of living overseas. Radio Amateurs of Canada cites his consistent work in the preparation for and attendance at the International Telecommunications Union's World Radio Conferences in 2012, 2015 and 2019. The RAC has credited him with being a key member of the Canadian delegation at ITU meetings. The Hall of Fame chairman of the board Frank Davis VO1HP, writes on the RAC website that Bryan's work on the national and international levels involved helping hams gain access to frequencies at both 60 meters and 630 meters. Frank acknowledges Bryan's successes as well in establishing and maintaining a good working relationship with Innovation Science and Economic Development Canada, the nation's regulator.

Congratulations to Bryan.

This is Dave Parks WB8ODF.

(WIA, RAC)

**
WORLD OF DX

In the World of DX, listen for Tony, JH1FFW, on the air from Palau as T88RC until December 5th. You can hear him on the HF bands, using SSB and FT8. QSL via eQSL or LoTW.

Look for Giorgio, 5UA99WS, who will be on the air from Niger (nye-Jeer) until the 23rd of December. He will be on 15 and 20 metres using SSB when time permits. QSL via his LoTW manager, IK5SRF.

Listen for Sergey, RX3APM, on the air from the Maldives as 8Q7BB from December 4th through to the 17th. He will participate in the ARRL 10m contest which is taking place on December 10th and 11th. At other times he will be operating on 80 through 10 metres. QSL to his home call.

Be listening for Joe, VE3BW, operating from Costa Rica as TI7/VE3BW between December 23rd and January 4th. He will be on the air on 160-6m, using CW, SSB and FT8. See his page on QRZ.com for details.

(DX-WORLD.NET)

**
KICKER: HAPPY ENDING FOR PRODUCER OF HAM RADIO DOCUMENTARY

STEPHEN/ANCHOR: Sometimes the best movies are the ones in which it's impossible to guess the ending. Our final report in this week's newscast tells us about one such movie, a documentary, and the student filmmaker who created it. Ralph Squillace KK6ITB brings us her story.

RALPH: The 30-minute documentary that made its TV premiere on Montana Public Broadcasting on Thanksgiving Day was a production by Grace Wolcott, a University of Montana student working with Media Arts students at the school. The film has a one-word title: "Ham." Grace told Newsline it was inspired by a class assignment and, in part, by the small portable shortwave radio she listens to. It's the story of Montana's ham radio community and the reason for radio operators' devotion.

She called the documentary a learning experience with everyone willing to work outside their comfort zones. Grace was producer, director and assistant editor. The production also offered moments of radio magic. In one of her favorite moments, the crew was interviewing a ham in his shack when another ham could be heard on the air -- and then there was yet another. A QSO got under way and each learned that they'd all been interviewed for Grace's film. Grace told Newsline: [quote] "I felt in that moment, even if this documentary isn't a masterpiece or nobody sees it, I am glad that, just like amateur radio, we are bringing people together." [endquote]

So can you guess the ending? Grace, who aspires to be an independent filmmmaker, now has another goal. She wants to become a ham. She's already studying with the help of Lance Collister, W7GJ, the amateur seen in the opening scenes of the film. She said: [quote] "Everyone I met in the community is patiently waiting for me to get my license and I will not let them down!" [endquote]

She gets her diploma at the end of this semester and hopes to get on the air next year.

This is Ralph Squillace KK6ITB.

STEPHEN/ANCHOR: If you ]'d like to see Grace's documentary, it's available on the Montana PBS website. See the link in the text version of this week's Newsline script at arnewsline.org

**
NEWSCAST CLOSE: With thanks to the ARRL; CQ magazine; David Behar K7DB; DX-World.net; JAXA Amateur Radio Club; Facebook; Montana PBS; NASA Spaceflight.com; The Print; QRZ.com; Radio World magazine; the RSGB; Republic World; SARCNet; shortwaveradio.de; Youth on the Air Camp; Wireless Institute of Australia; YOTA; and you our listeners, that's all from the Amateur Radio Newsline. We remind our listeners that Amateur Radio Newsline is an all-volunteer non-profit organization that incurs expenses for its continued operation. If you wish to support us, please visit our website at arnewsline.org and know that we appreciate you all. We also remind our listeners that if you like our newscast, please leave us a 5-star rating wherever you subscribe to us. For now, with Caryn Eve Murray KD2GUT at the news desk in New York, and our news team worldwide, I'm Stephen Kinford, N8WB, in Wadsworth, Ohio saying 73. As always we thank you for listening. Amateur Radio Newsline(tm) is Copyright 2022. All rights reserved.
THURSDAY EDITION: Here is a first, I shot a turkey this morning. I was laying in bed with my faithful dog watching the news and I heard a lot of movement in what I thought was the attic. The dog is howling and I go up in the attic, nothing there but I hear a commotion on the roof. I go outside and see two turkeys on the peak of the roof. I yell at them to get the hell going and they squawked at me. I went in the house and decided to scare them off with my bb gun, I don't want to injure them with my .177 pellet gun. So I run out and shoot the first one in the side and he flies off. The other one just looks at me so I give him a shot and he flies off over my elderly neighbors yard and drops to the ground....dead as a doornail. He must have dropped dead of a heart attack. I went in the house and heard the scanner go off and a cruiser is on the way to investigate. Oh shit...as the officer got close to the bird the sucker woke up and ran at the officer, the officer runs to the cruiser, and the bird flies off. Remind me to never shoot a turkey with a bb gun again...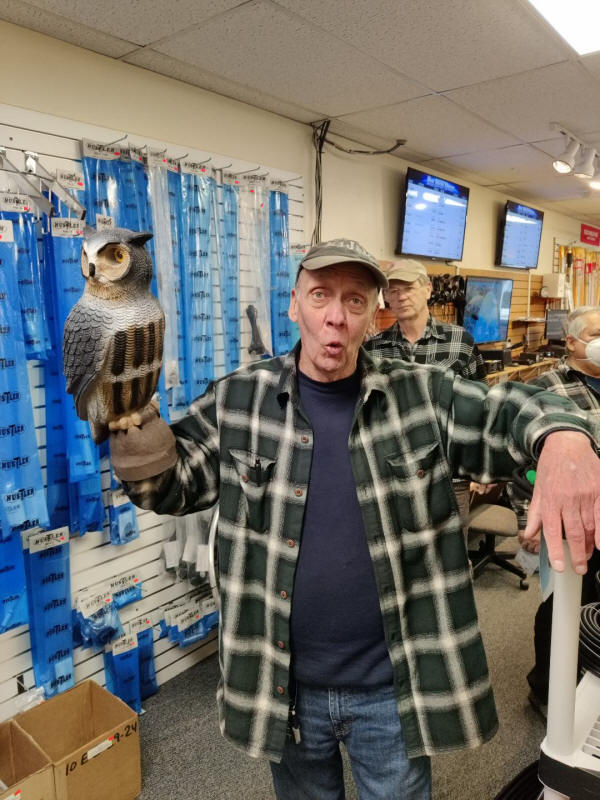 Speaking of birds: Salem, NH HRO yesterday and Joe-K1JEK and his pet owl...
WEDNESDAY EDITION: I purchased a Whistler 1040 handheld digital scanner, I love it....I bought the scratch and dent model for half the retail price and it arrived as new, not a mark on it in a new box with new walwart charger....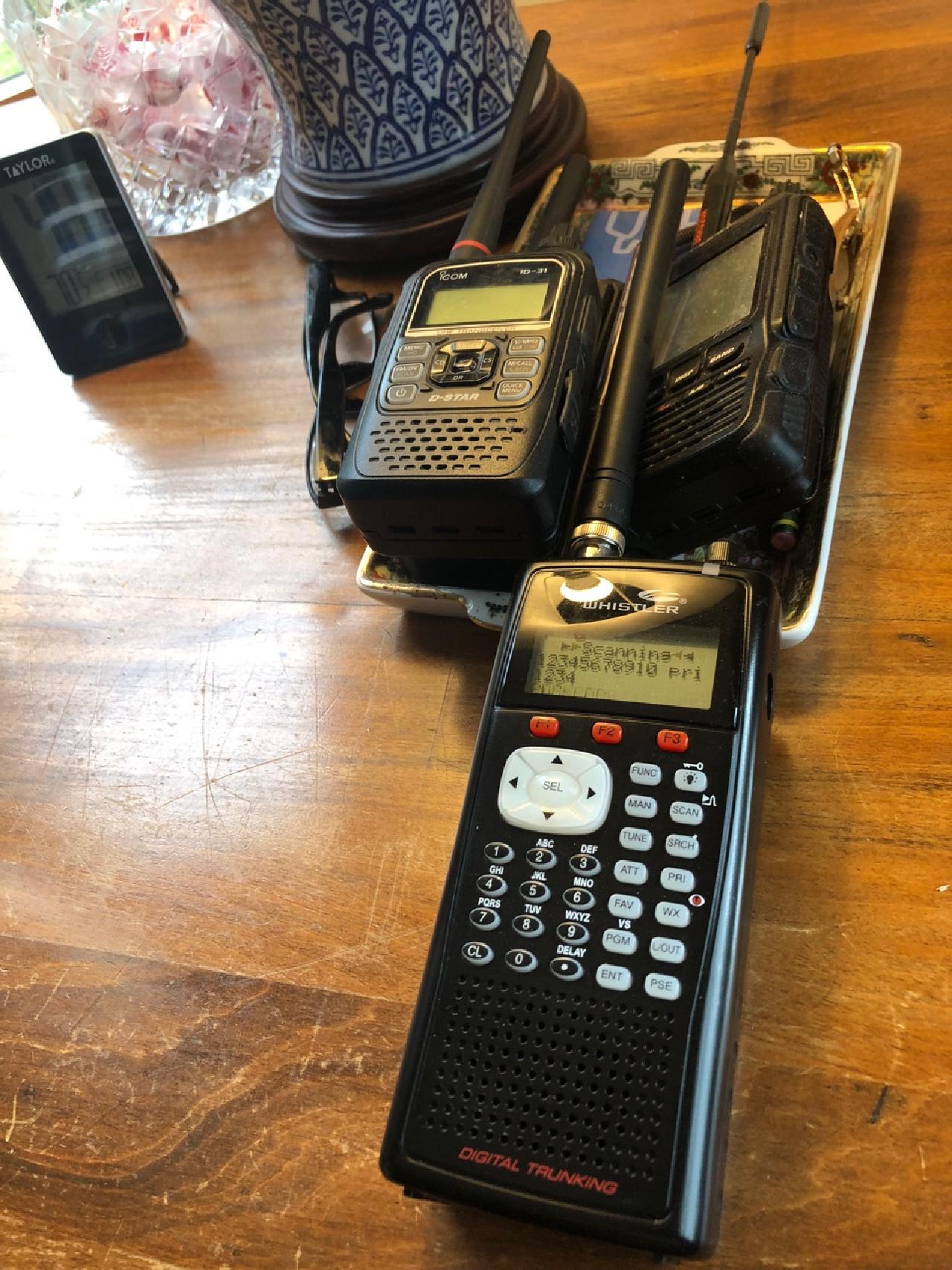 Scanner size compared to a few handhelds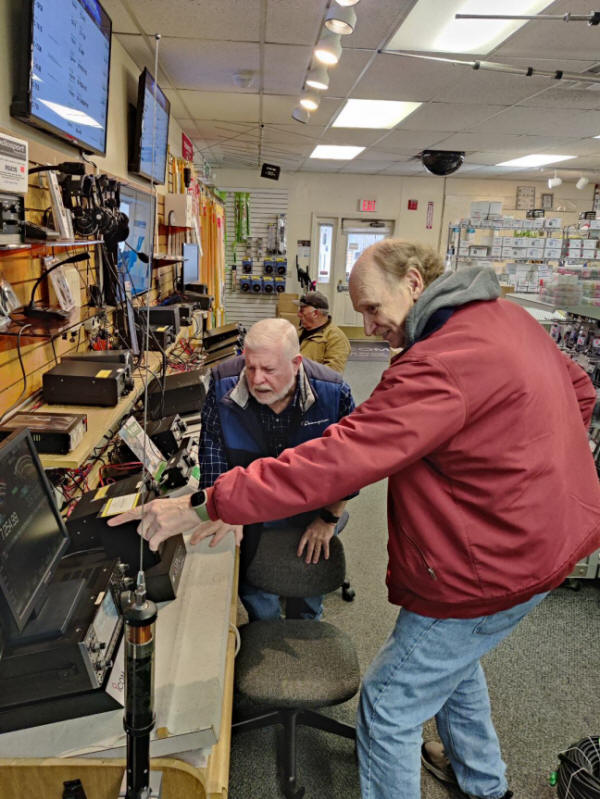 Neil pointing out the features to Barry...Mike in the background.
TUESDAY EDITIION: ON A MINI-VACATION....The World Health Organization on Monday renamed the viral disease monkeypox as "mpox" due to concerns about racism and stigmatization. What! Are we going to hurt a damn monkeys feelings? Trivia: a group of monkeys is called a troop. Monkeys live in troops comprised of several hundred individuals....Today, in 1967, the first pulsating radio source (pulsar) was detected by an alert graduate student, Jocelyn Bell, then working under the direction of Prof. Anthony Hewish at the Mullard Radio Astronomy Observatory, Cambridge, England.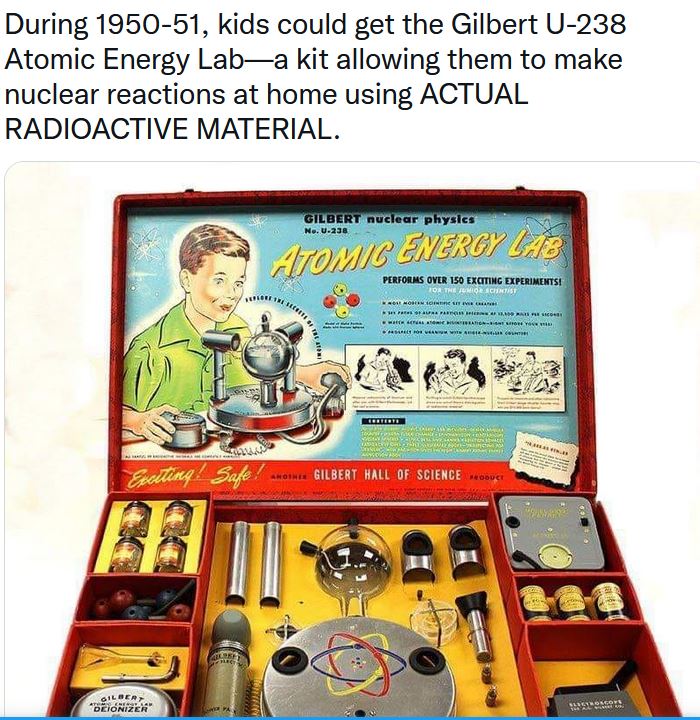 The K7RA Solar Update - November 28, 2022
ARRL Headquarters was closed for the holiday last Thursday and Friday, so this bulletin is delayed until Monday, but has fresh content from Sunday night.
At 2228 UTC on November 27, the Australian Space Weather Forecasting Centre issued a geomagnetic disturbance warning. "A coronal hole wind stream is expected to induce G1 periods of geomagnetic activity from mid-30 - November to 01-December."
Solar activity softened over the past reporting week, November 17 – 23. Average daily sunspot numbers dropped from 72.3 to 66, and average daily solar flux from 137.2 to 116.5.
In the four days since the end of the reporting week, the average daily solar flux has sunk to 106. But we look forward to rising solar flux, peaking at 135 on December 12 and again on January 8.
In the 2021 ARLP047 bulletin, average daily sunspot number was only 30.9, and solar flux was 80.8, so we can see Cycle 25 is progressing nicely.
Average daily planetary A index rose slightly from 4.4 to 5.1, and middle latitude numbers declined from 3.9 to 3.4.
Two new sunspot groups emerged on November 16, one more on November 17, and another on November 18. Two more appeared, the first on November 21 and the second on November 23. No new sunspots appeared in the following four days. The peak sunspot number was 83 on November 21.
Predicted solar flux is 105 and 110 on November 28 – 29; 115 on November 30 through December 3; 120 on December 4; 125 on December 5 – 10; 130, 135, and 130 on December 11 – 13; 125 on December 14 – 17; 120 on December 18; 125 on December 19 – 24; 120 on December 25 – 31; 125 on January 1 – 6, 2023, then 130 and 135 on January 7 – 8.
Predicted planetary A index is 10, 15, and 18 on November 28 – 30; 10, 18, and 10 on December 1 – 3; 5 on December 4 – 7; 8 on December 8 – 9; 5 on December 10 – 16; 10, 26, 15, and 8 on December 17 – 20; 10, 15, 8, and 10 on December 21 – 24; 8 on December 25 – 27; 12, 18, and 8 on December 28 – 30; 5 on December 31 through January 3, 2023, then 8 on January 4 – 5.
F.K. Janda, OK1HH wrote on November 24:
"Over the past seven days, I have been reminded again of the Woody Allen quote, 'If you want to make God laugh, tell him about your plans.'
At first, the authors of the forecasts of the Earth's magnetic field activity (including Tomas Bayer of the Budkov Geomagnetic Observatory) predicted an increase to the level of a disturbance on November 17. After that, most of the authors already agreed on November 19. In the following days, the forecasts were pushed forward, finally to 21 - 22 November. And was there anything? Nothing! Solar activity dropped slightly. The geomagnetic field was quiet except for November 18 and 21. The development of shortwave propagation was erratic, but not bad, with improvements on November 17, 19, and 24.
For forecasting, we can sometimes use observations obtained using a technique called helioseismology. Its map of the sun's far side on November 22 showed a huge active region. The corresponding heliographic longitude will appear at the eastern limb of the solar disk in about 10 days. After that, we expect an increase in activity and, of course, an improvement in shortwave propagation."
Occasionally I see a solar report in overseas tabloids that makes me laugh out loud, or LOL as they say.
Here is one. I love the part that says our Sun is the largest star in our solar system. No kidding! Normal solar activity becomes an existential threat.
That was published on November 25, and no doomsday yet.
More dire warnings from the same source:
This one is pretty deep, but is about real science:
I have not seen a new video from Tamitha Skov, but you can check our Space Weather Woman's YouTube videos at https://www.youtube.com/user/SpWxfx .
Jon Jones, N0JK writes from Kansas:
"There was an extensive and unexpected sporadic-E opening November 19 early in the morning. I noted stations on Es about an hour after local sunrise here in Kansas.
I logged stations in W3 and W4 on 6 meters on FT8. Signals were good at times, the opening lasted here until about 1700 UTC.
Sunspot AR3150 produced a M1-class solar flare at 1256 UTC. A strong pulse of extreme UV radiation from the flare ionized Earth's upper atmosphere. The sporadic-E appeared around 30 minutes later. Perhaps this helped spark the Es? This has been the only significant sporadic-E opening on 50 MHz so far in November 2022.
The opening was fortuitous. Larry Lambert, N0LL was operating portable from rare grid DN90. He made many 6-meter contacts on sporadic-E.
The ARRL Phone Sweepstakes was on, and sporadic-E may have helped contestants make contacts on 20, 15, and 10 meters.
Today (November 27, 2022) I got on 10 meters Sunday afternoon of the CQ WW CW contest. Stations in Hawaii were very loud at 2240 UTC. I logged 4 Hawaiians in 6 minutes running just 5 watts and a magnet-mount whip on a BBQ grill. 10 can be amazing at times."
N0JK writes the monthly VHF column, "The world Above 50 MHz" in QST.
Danny, K7SS reported on the Western Washington DX Club email reflector that he worked single band 15 meters in the CQ World Wide CW DX contest. "Great to have 15 open again. Not quite at its peak, and never had a good opening to EU, except for OH, SM, and LA over the top both days.
Most EU worked scatter path to the E/SE. Thank goodness for ASIA action! lots of JA BY YB folks."
Danny lives in Seattle, where I live, and we have always had an amazing pipeline to Japan.
Send your tips, reports, observations, questions, and comments to k7ra@arrl.net.
For more information concerning shortwave radio propagation, see http://www.arrl.org/propagation and the ARRL Technical Information Service at http://arrl.org/propagation-of-rf-signals . For an explanation of numbers used in this bulletin, see http://arrl.org/the-sun-the-earth-the-ionosphere .
An archive of past propagation bulletins is at http://arrl.org/w1aw-bulletins-archive-propagation . More good information and tutorials on propagation are at http://k9la.us/.
Instructions for starting or ending email distribution of ARRL bulletins are at http://arrl.org/bulletins.
Sunspot numbers for November 17 through 23, 2022, were 64, 55, 59, 72, 83, 61, and 68, with a mean of 66. 10.7 cm flux was 119.2, 116, 115.1, 119.1, 117, 115.7, and 113.3, with a mean of 116.5. Estimated planetary A indices were 2, 7, 5, 6, 10, 3, and 3, with a mean of 5.1. Middle latitude A index was 1, 5, 4, 3, 8, 2, and 1, with a mean of 3.4.
MONDAY EDITION: Wet and cold here on the rock at 5am this morning walking the hound...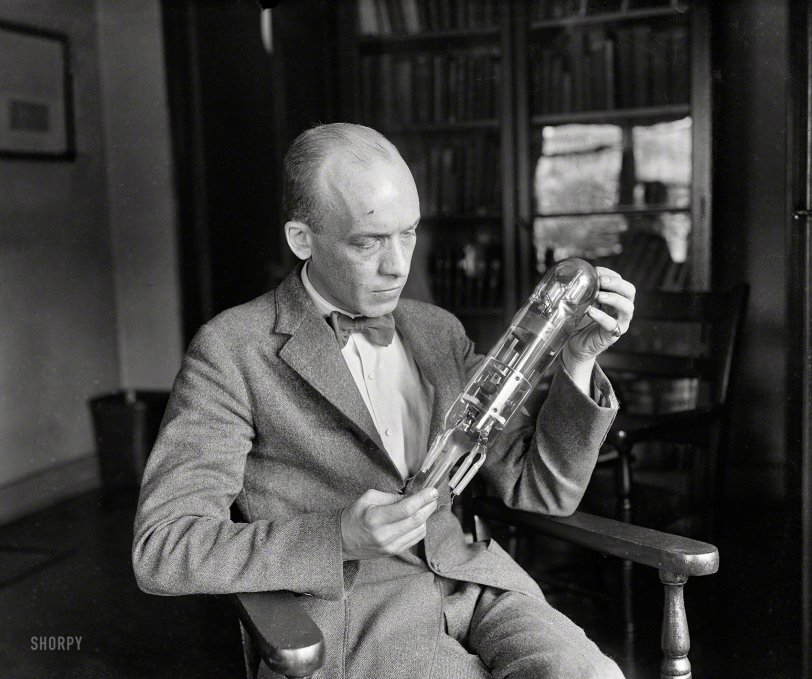 The good old days in elementary school practicing putting your head between your knees and kissing your ass goodbye...
WEEKEND EDITION: Black Friday at HRO....When the satellites of the Hyderabad-based space tech startup Dhruva Space, Thybolt 1 and Thybolt 2, are launched into space on November 26 by the Indian Space Research Organisation's PSLV-C54, it will be CEO and co-founder Sanjay Nekkanti's way of giving back to the amateur radio ecosystem. The 34-year-old has been a licenced amateur radio operator for over a decade, and the Thybolt satellites would carry payloads related to radio operations. "All our co-founders are also amateur radio operators and we also have an amateur radio club within the company. So for us, since it all started with amateur radio, in a way, it is our way of giving back to the community" Nekkanti told Moneycontrol in an interview. ARTICLE...What could go wrong thawing out 50,000 year old virus?....Ukraine's Office of Strategic Communications has released a video, which it claims shows a Ukrainian sniper taking out a Russian soldier from 1.68 miles away. If proven true, this would make the hit the second-longest sniper kill in military history.
Amateur Radio Newsline Report

HAMS REUNITE LOST FATHER WITH SONS AFTER 23 YEARS

PAUL/ANCHOR: We begin this week with the tale of a poignant reunion between an octogenarian in India and the grieving family who had presumed he had died after a deadly cyclone that claimed thousands of lives 23 years ago. That reunion happened with the help of amateur radio. Graham Kemp VK4BB has that remarkable story.

GRAHAM: After a super cyclone flattened the coast of Odisha in India in 1999, Kritichandra (Kritty-Chondra) Baral (Bah-RAHL) lost his family and his memory - the latter possibly from some kind of trauma. Meanwhile, never learning for certain the fate of their patriarch, his sons presumed their father was one of the thousands who lost their lives in that natural disaster. The man survived, however, and lived as a vagrant on the streets of a city in Andhra Pradesh, existing for years on handouts and people's generosity. Ten years ago, he was taken in by a group known as the Missionaries of Charity after one of his benefactors discovered his health had deteriorated and asked that he be accepted into their care.

The charity's ongoing efforts to locate his family failed until Nov. 19, when they contacted the West Bengal Radio Club, which has extensive experience in assisting with reunions of missing persons and their families. The hams had helped the charity before and the group was hopeful that the radio amateurs would succeed where the charity had not. Ambarish Nag Biswas, VU2JFA, the club's secretary, said after some time the amateur radio club was able to locate the man's sons. He told various Indian news media outlets that two of the sons: [quote] "were dumbstruck when they saw their father's photograph and then started weeping. They are a well-to-do family and said their father went missing after the cyclone and was presumed dead." [endquote]

In videos shared with Newsline by Ambarish Nag Biswas, the family can be seen with their father at the Missionaries of Charity residence. They are overcome by emotion, hugging one another for the first time in more than two decades.

This is Graham Kemp VK4BB.

(AMBARISH NAG BISWAS, VU2JFA; GULF NEWS)

**
BIG PROMISE FROM ULTRA-TINY BATTERY

PAUL/ANCHOR: Battery technology continues to change and the latest evolution announced recently is a super-small rechargeable "micro-battery" with a high tolerance for variations in temperature - and a lifespan of between one and two decades. Kent Peterson KCØDGY tells us about this new development and what scientists are saying about it.

KENT: A company in France believes it has come up with the latest solution to provide battery power for micro-power devices. The company, ITEN, has developed an ultra-small rechargeable lithium battery. At first glance, the surface-mount solid-state battery might easily be mistaken for an SMD chip as its housing is only slightly larger than the battery's own dimensions of 3.2 by 2.5 mm. They are, of course, not chips: These batteries have a capacity of between 0.1 mAh and 0.5 mAh. They were found capable of tolerating temperatures between minus 40 degrees Celsius, or minus 40 degrees Fahrenheit, all the way to 85 degrees Celsius, or 185 degrees Fahrenheit.

Their ability to deliver peak currents make them especially useful for powering RF transmissions such as Bluetooth, Sigfox and LTE, to deliver packets of data via sensors. The website, CNX software, also sees the batteries as being useful for sensor data loggers, beacons and backup power supplies for microcontrollers.

The solid-state technology is considered another plus contributing toward a usable lifespan of between 10 and 20 years. The company has said the batteries are also fast-charging.

The website, Hackaday, poses the following challenge: [quote] "We'd be particularly interested to learn about their temperature sensitivity when it comes to soldering, as we've taken to heart the warnings about soldering to more traditional lithium cells." [endquote] The website noted that there are apparently some evaluation kits available directly from the company in France.

This is Kent Peterson KCØDGY.

(ITEN.COM, HACKADAY, CNX-SOFTWARE)

**
TRANSATLANTIC QSOS RELIVE RADIO HISTORY IN DECEMBER

PAUL/ANCHOR: The entire month of December is being devoted to reliving radio history: the Radio Society of Great Britain will mark the centenary of the Transatlantic Tests, which firmly established that amateur radio communication could cross the ocean. Jeremy Boot G4NJH gives us those details.

JEREMY: The Radio Society of Great Britain has activated historic call signs to mark a series of historic moments 100 years ago: the successful one-way transatlantic radio communication showed the HF bands to be well-suited for amateurs' signals crossing an ocean. The first amateur transmission from Europe using the callsign (G)5WS was heard in North America on the 24th December 1922.

The RSGB is inviting society members to participate in the month long celebration by activating a station – and is encouraging the rest of the world to listen. The contacts this time will be via two-way communication with awards available for operators logging QSOs with stations using the historic callsigns.

In England these are G5WS, G5AT, G6XX, G6ZZ and G3DR. The station in Scotland will be GM5WS; Wales will be using GW5WS and Northern Ireland, GI5WS. In the English Channel, operators from the Crown Dependency of Guernsey will be using GU5WS and those from Jersey will use GJ5WS. Operators from the Isle of Man, another Crown Dependency in the Irish Sea, will be using GD5WS.

This is Jeremy Boot G4NJH.

(RSGB)

**
NEBRASKA EMERGENCY OPERATORS HONORED BY STATE

PAUL/ANCHOR: Hams in Dodge County, Nebraska, are feeling a lot of pride right now. Their track record of community service and commitment during disasters or even drills for disasters has just been honored by the state, as we hear from Andy Morrison K9AWM.

ANDY: Dodge County Amateur Radio Emergency Services, which has been a key player giving assistance in real and simulated disasters in Nebraska, was among the 11 honorees celebrated recently by the state for its vital work in the community. Susanne Shore, wife of Gov. Pete Ricketts, made the presentation during a luncheon for the 2022 ServeNebraska Step Forward Awards. This is considered the state's most prestigious honor given to volunteers.

Leader Steve Narans,WBØVNF, received the award on behalf of the ARES group, which has been part of disaster drills with the Nebraska National Guard as well as the Fremont fire and police departments. In 2019, the ARES group was key to a successful response when Fremont and surrounding areas suffered major floods. The ARES group is now in the process of renovating a county communications trailer and fitting it out for use by first responders.

This is Andy Morrison K9AWM.

(FREMONT TRIBUNE)


**
SANTA HF NET IS COMING TO TOWN

PAUL/ANCHOR: Even if you no longer believe in Santa, you still believe in amateur radio, right? So listen up: the Santa Net is coming to town on 80 meters and Jim Damron N8TMW says to put it on your list.

JIM: More than one thousand children are expected to have their moment on the air this year as the 3916 Nets kicks off its 17th year of the Santa Net. When this beloved holiday tradition began 17 years ago, only a handful of youngsters checked in with the assistance of licensed amateur radio operators. If you've been a very good ham this year, you can help a young person be a third-party operator and get that important contact on 3.916 MHz. The net begins on Friday November 25th at 7:15 p.m. Central Time, or 0115 UTC. Santa will be on the air every night on the same frequency and at that same time until Christmas Eve, December 24th.

Just as Santa himself might say, this is a team effort. Organizer Pete Thomson, KE5GGY, said that radio operators who belong to the 3916 Net work as relays to ensure everyone gets heard. This is, understandably, the favorite time of year on 3.916 MHz for these operators.

You can even check in before the net at cqsanta dot com (cqsanta.com) Everyone is ho-ho-hoping for good propagation.

This is Jim Damron N8TMW.

(QRZ.COM)

**
CATCH UP WITH SANTA ON REPEATERS, ECHOLINK

PAUL/ANCHOR: If you are unable to reach Santa on HF, he's still reachable by repeater and on EchoLink. Santa will be taking calls from November 27th to December 9th thanks to the teamwork of the Longmont Amateur Radio Club and the Northern Colorado Amateur Radio Club.

Linked UHF and VHF repeaters in Colorado will be on the air with Santa, who will also be reachable on Echolink node 8305 via the Longmont club repeater WØENO-R.

For Santa's operating hours and for the repeaters' offsets and PL tones, visit the club website wØeno dot org. (W zERO E N O dot org)

(LONGMONT AMATEUR RADIO CLUB)

**

BREAK HERE: Time for you to identify your station. We are the Amateur Radio Newsline, heard on bulletin stations around the world, including the N2JDW repeater in New York City on Monday nights at 8 local time, just before the Amateur Radio Emergency Communications Service Net.

**

SKYWARN PROGRAM GOING STRONG IN SEVERE WEATHER

PAUL/ANCHOR: As many of us know, weather patterns seem to be changing everywhere. One thing that doesn't change is hams' dedication to preparedness in the face of disaster. Randy Sly, W4XJ, spoke to one such group.

RANDY: With the recent late season hurricanes and early season snow storms here in some parts of the United States, everybody's talking about the weather these days. For the National Weather Service, one of their key resources for determining ground truth reports during severe weather is the SKYWARN program, which is strongly supported by the amateur radio community.

While hams have always played a key role in the program since its inception in 1965, one group has taken their mission way beyond SKYWARN. The Southwest District Skywarn Team Of Western Pennsylvania offers general weather classes, training for relay and net control stations, SKYWARN reporting procedures, daily rain gauge reporting with CoCoRaHS, and other training along with bi-monthly meetings on Zoom. They also have worked at developing relationships with adjacent NWS forecast offices to provide better interconnectivity and communications during activations.

Eddie Misiewicz (Mi-shé-vitz - short e) KB3YRU, President of the group, told AR Newsline that they want to provide "all things weather" for those who are interested even if they don't have a license. He also hopes that their Zoom meetings might also be a gathering place for other SKYWARN leaders and volunteers in order to share information and ideas. To learn more about the Southwest District SKYWARN team and meeting times, you may contact Eddie at KB3YRU@arrl.net.

This is Randy Sly, W4XJ

**
FOR OLDER HAMS, A DIFFERENT KIND OF DXPEDITION

PAUL/ANCHOR: The South Pacific island nation of Vanuatu (VAN-Wah-TWO) isn't exactly roughing it: there's a power grid, commercial air service, homes to rent and a population of more than 40,000 people. For a group of adventurous amateurs with the average age of 70, that makes it a great spot for a DXpedition. Kevin Trotman N5PRE tells us what they've got planned.

KEVIN: Van Herridge, N4VGE, is a born traveler and though he calls South Carolina home, he is always looking for adventure beyond his QTH. Now he and a group of older amateurs will follow that roving spirit to Vanuatu in the South Pacific. The group has planned a two-week DXpedition in December of 2024 and it will include participation in that year's ARRL 10-meter contest.

The men are bringing all their necessary equipment and they're also bringing their wives because this DX has hotels, restaurants, beaches and other attractions to make it a family holiday too.

DXers already know that Vanuatu ranks 100th on the DXCC list of 340 countries. For this team, however, it ranks number one as a good spot to aim for more than 50,000 QSOs using CW, SSB, RTTY and FT8. They're looking for four more radio operators and inviting them to bring their spouses to make it a great team. Van asks that interested DXpeditioners contact him at vanherridge@gmail.com. That's herridge, spelled h e r r i d g e.

Meanwhile, the team is also working on developing a website and seeking sponsors.

This is Kevin Trotman N5PRE.

(VAN HERRIDGE, N4VGE)

**

WORLD OF DX

In the World of DX, you still have time to contact Peter, LA7QIA, who is operating from Svalbard as JW7QIA from November 25th to the 29th. He'll be taking part in the CQWW CW contest as a single operator. QSL to his home call via LoTW.

Sigfrido, IW9FMD, is on the air as 5WØRS from Samoa as time permits between work assignments. Be listening on 20M SSB. QSL via IT9VYO.

You have until December 3rd to contact the team on Nosy Be, IOTA AF-057, Madagascar. Team members including Ron PA3EWP, who is operating as 5R8WP and will be in the CQWW CW contest. His teammates are Guenter DL2AWG, operating as 5R8WG; Erno DK2AMM operating as 5R8MM; Gerben PG5M, operating as 5R8CG and Johannes PA5X, operating as 5R8PA. The team is running two stations at the same time using CW, SSB, RTTY and FT8 in fox/hound mode.

If possible, logs will be uploaded to Club Log on a daily basis. See QRZ.com for QSL information.

Be listening for Take (TAH-KAY), JS6RRR operating from Miyako-jima, IOTA number AS-079, until December 17th. Take will be on 80-6m, using SSB, CW, FM, RTTY and JT65. He will participate in the CQWW CW contest as JS6RRR. QSL information is on QRZ.com.

Ferdy, HB9DSP, will be active from Zanzibar using the call sign 5H3FM from November 25th to December 13th. You will find him mostly on 20, 15 and 10 metres using SSB and FT8. QSL to his home call.

(DX-WORLD.NET)

**
KICKER: A RADIO, A RESCUE AND A QSL CARD

PAUL/ANCHOR: Sometimes a QSL card can confirm so much more than just a successful radio contact. Just ask one ham in Wyoming who recently got such a card with a special message. Here's Ralph Squilllace KK6ITB with that story.

RALPH: Nicholas Cashoili NØASL recently sent a QSL card to Jim Shirey N7FC. The men had a QSO on Halloween night on the same frequency where members of the Buffalo Amateur Radio Klub customarily check in and keep up-to-date on matters related to the club. The voice coming from Jim's HT, however, wasn't from a fellow club member: It was that of a motorist in distress. That motorist was Nicholas. According to a report on the Buffalo Bulletin website, Nicholas told Jim that he needed help: He'd been driving through a canyon in Johnson County in north central Wyoming, when his car slid off the road. His car was disabled and there was no cell service available in the area. Using his radio, Jim gathered what information he could get from Nicholas and then called 911. The story in the Buffalo Bulletin said that the fire and sheriff's departments were sent to assist at the scene.

Jim however didn't learn of the happy ending until he received that QSL card from Nicholas this month. Only after its arrival from Nicholas' Nebraska QTH did Jim discover some of the details of what turned out to be a successful rescue. Nicholas was safe and had not been injured. The day it arrived, his QSL card did double duty -- as a thank-you card.

THURSDAY EDITION: Wishing your family and friends a peaceful Thanksgiving......
Dodge County Amateur Radio Emergency Service Receives ServeNebraska Award
The Dodge County Amateur Radio Emergency Service® (ARES®) has received the 2022 Disaster Volunteer Award at the ServeNebraska Step Forward Awards Luncheon on November 4, 2022.
Presented by Nebraska First Lady Susanne Shore, the award recognizes Dodge County ARES for a critical role in responding to the 2019 flooding in Fremont, Nebraska, and the surrounding areas. Dodge County ARES took significant steps to ensure that the Fremont community is always prepared. Amateur radio operator Steve Narans, WB0VNF, was cited for his role in retrofitting a county communications trailer for setup and use by first responders.
The group participated in a full-scale disaster drill with the Nebraska Army National Guard, Fremont Police, and Fremont Fire Department to test their skills and demonstrate how their services fit in among other disaster response efforts. During severe weather, they monitor weather conditions and report to the National Weather Service for its use in issuing severe weather warnings for Dodge County.
The group was nominated for the award by Dodge County Emergency Manager Tom Smith. Selection for the award was made by Nebraska Governor Pete Ricketts.
The ServeNebraska Step Forward Awards recognize exemplary volunteers across the state for their time and service aimed at making their communities better. The awards are the most prestigious awards given for volunteerism in the state of Nebraska. Dodge County ARES was among eleven 2022 honorees.
WEDNESDAY EDITION: Almost time for my favorite holiday, lots of food, no gifts, and an afternoon of football. Did I mention Notre Dame bitch slapped big time BC 44-0, what could be better.....Credit scores around the country, I don't think the south is going to rise again...Ever notice at a hamfest hams piss all over the place at the urinals? They need these new designs.....The most widely used version of the F-35 still can't fly in lightning, and despite hardware and software modifications, the Pentagon doesn't have a path forward to lift ongoing flight restrictions.
Support Young Hams on #GivingTuesday
Giving Tuesday is November 29, 2022 – a growing annual movement where individuals and organizations, like ARRL, come together to unleash the power of radical generosity. Many ARRL programs and services are not covered by membership fees alone. Your contributions have a tremendous impact on ARRL's ability to promote and protect amateur radio and better serve its members. You can donate to ARRL now at www.arrl.org/give.

This year, ARRL's theme for #GivingTuesday is young hams! ARRL is already doing so much to grow and encourage our community of young radio amateurs. Just imagine how much more we can do with your help.

From now to #GivingTuesday, ARRL wants to raise $25,000 to help support and expand our programs and initiatives for young hams:
ARRL Student Membership Discount. Did you know that ARRL membership is only $25 for individuals under 26 years old? Your gift will help subsidize ARRL Student Membership.

ARRL Youth Licensing Grants. ARRL covers the one-time $35 FCC application fee for new license candidates younger than 18 years old for tests administered under the ARRL VEC program. Also, their exam session fee is reduced to only $5 (normally $15).
Outreach to Teachers and Schools. ARRL has resources to help educators and volunteers bring ham radio into classrooms, engaging students in science, technology, engineering, math, and the arts (STEM/STEAM). ARRL is inspiring students to pursue higher education and careers paths in radio technology and radio communications.
ARRL Collegiate Amateur Radio Program. Since 2017, the ARRL Collegiate Amateur Radio Program has networked students and their campus radio clubs. We engage students in monthly meetings and drawings, best practices for vibrant college clubs, and notices of career opportunities. This next generation of young hams are already active, engaged, and on the air!
Kids Day and School Club Roundup. ARRL sponsors on the air fun for young hams!
Promoting partnerships. ARRL's partnerships support many youth programs including Amateur Radio on the International Space Station (ARISS) and outreach to scouts.
TUESDAY EDITION: Today's double dumbass...Infected turkeys or those that may have come in contact with sick birds are euthanized before they can enter the food system, but you should still take proper precautions. The CDC says that cooking poultry and eggs to an internal temperature of 165˚F kills bacteria and viruses, including bird flu viruses; and there's no evidence that anyone has gotten bird flu after eating properly cooked poultry products. As with any raw meat, you should also wash your hands before and after handling uncooked turkey.
"Influenza viruses can survive for several hours on surfaces, including raw bird meat. However, cooking kills viruses," Dr. W. Ian Lipkin, director of the Center for Infection and Immunity at Columbia University Mailman School of Public Health, said in an email to Yahoo News. "The greater risk is infection with the bacterium salmonella. It is important to prepare turkeys for cooking on cutting boards that can be washed with soap and hot water, and to wash your hands before touching foods or your face."
The CDC says humans rarely get bird flu, and the risk to the general public is low. Those more likely to contract the virus are people working in jobs with prolonged, direct exposure to infected live birds.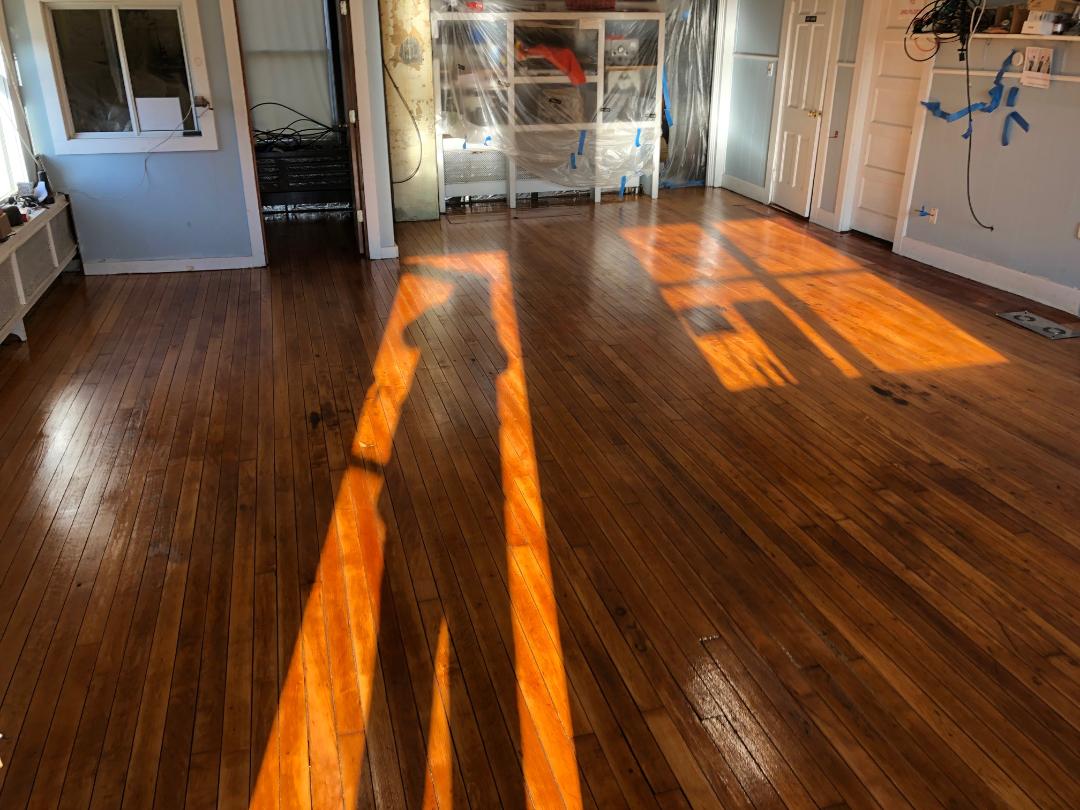 First coat down on the floor at the radio club....the club is going to look great with new furniture and projection system..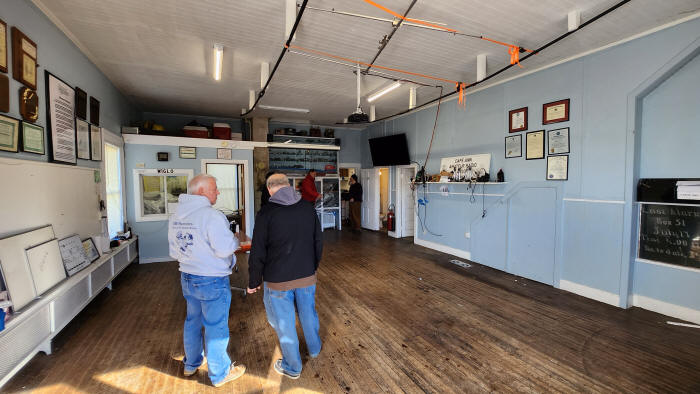 Before.....We ought this old firehouse/school house form the city for $1. The second floor is loaded with ham gear and test equipment along with 7 working stations on all modes.
Greetings one and all. The festive season is quickly approaching. With that comes the 11th annual Turkey Day Net. The net will operate as usual with an informal style beginning at approximately 15:00 UTC.
The SSB portion of the net will use the posted frequencies as a reference point. Follow the thread for chatter and information as the net moves along. I look ford to talking with as many turkeys as I can.

Frequencies:10m-28.450
15m-21.310
20m-14.245
40m-7.200
We're excited to report that the FreeDV project has joined the Software Freedom Conservancy! Software Freedom Conservancy (SFC) is a 501(c)3 organization dedicated to advocating for free and open source software (FOSS), including defending the right to repair, improve and reinstall software. Through this partnership, we hope to unlock additional resources that will help accelerate development of FreeDV and increase the adoption of open source speech codecs such as Codec2.

As part of this effort, we have also formed a Project Leadership Team, consisting of the following individuals:

* David Rowe (VK5DGR)
* Mooneer Salem (K6AQ)
* Wojciech Kaczmarski (SP5WWP)
* Walter Holmes (K5WH)
* Mel Whitten (K0PFX)
* Brian Morrison (G8SEZ)

More information about SFC (along with ways to contribute to them if desired) can be found on their website at https://sfconservancy.org/. Information about the FreeDV project can be found at https://freedv.org/ (with activity typically around 14.236 MHz).
HAMS YOU MIGHT KNOW