EHAM QTH QRZ ARRL HRO ICOM KENWOOD YAESU 6PM 145.130 NET
FRIDAY EDITION: It is supposed to be humid and hot today, we will see. Band conditions were not great yesterday afternoon, I thought my antennas had dropped to the ground.......
Have you ever ever jumped into something and realized you made a big mistake?
THURSDAY EDITION: Early start today, had the AC unit installed before breakfast, we ony need it a few days a summer with the cool ocean breeze across the street...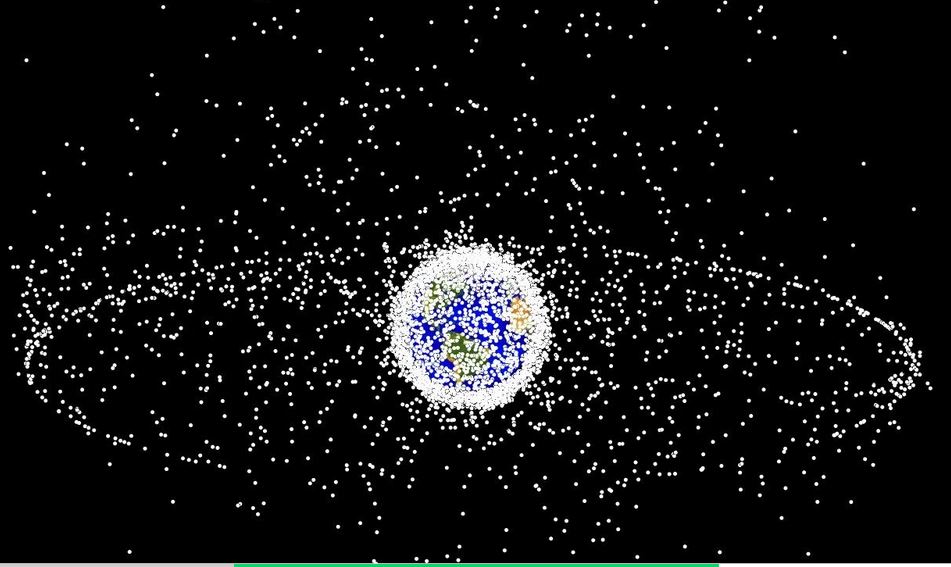 No, it's not some massive conspiracy, and yes, the space above our planet is getting increasingly and worryingly crowded with satellites and space junk. It's just that humans and the things we build are tiny compared to the vastness of our planet. There are about 4,256 human-made satellites orbiting the Earth, of which about 1,149 are still working. Most of these are fairly small, ranging from tiny CubeSats that are only four inches on each side to communications satellites that can be over 100 feet long.
That's still tiny when you consider that the Earth is 7,917.5 miles across.
Even our space station is puny when compared to our planet. Measuring 357 feet end-to-end, the International Space Station (ISS) is by far the largest human-made object orbiting the Earth. Even that isn't large enough to register on Earth-observing instruments such as the DSCOVR satellite's EPIC camera, which takes absolutely gorgeous pictures of the Earth from a million miles away.
Jay Herman, the lead scientist of EPIC, says that the smallest objects EPIC's camera can make out are about eight to 10 kilometers wide. At that range, the ISS wouldn't even register as a blip in an image of the Earth.
ven satellites with closer vantage points and higher resolutions are out of luck. NASA's Terra and Aqua satellites carry the MODIS (or Moderate Resolution Imaging Spectroradiometer) instrument and operate only about 440 miles above the Earth's surface.
"With the MODIS satellite, which has a resolution of one kilometer, you'd probably barely be able to make out something like the ISS," says Herman. "If it did pass through the field of view, you might see a bright spot, but you wouldn't see many details, so it would be really hard to identify." And that's only if the ISS and Terra or Aqua happened to be in the same area.That's not to say that there are no orbiting observatories capable of taking images of other satellites or space junk. "Some of the commercial high-resolution satellites would be able to see the ISS and probably even smaller spacecraft," Herman says.
But even then, it's a matter of perspective and position. Satellites are designed to not crash into each other, which means that it's very rare that their paths cross, and many of them operate at different altitudes. The ISS orbits at a height of around 250 miles, for example, while other satellites orbit closer to Earth or much further away. "The commercial satellites would be able to see the ISS, which is in a fairly low orbit," Herman says. "But they wouldn't be able to see MODIS, which is in a higher orbit than the commercial high-resolution satellites."
"The ISS is in an equatorial orbit, so it goes north and south of the equator, but not all the way to the poles," Herman says. Many other satellites, including the commercial satellites, he says, orbit the Earth on a polar orbit, heading North to South. "The probability of a satellite [like the ISS] being in the field of view is not zero, but it's small, because they're in almost perpendicular orbits."
And even if it seems invisible in the wide-angle images of Earth, that doesn't mean that space junk isn't a highly visible problem to people involved in spaceflight. Infographics show how very crowded the space around our planet has become.
"There's a lot of space junk up there," says Herman. "In fact, the ISS has to maneuver occasionally to get out of the way of stuff that NORAD tracks with radar." Much of that space junk is small, ranging from paint chips to baseball-sized pieces of debris that were once part of Chinese, Russian, or American satellites. These pieces wouldn't be immediately visible in images, but they still have the potential to cause real problems in space. "The velocities are so high that if a little piece of junk hit you it would do a lot of damage," Herman says. Just last spring, an errant fragment chipped a window of the ISS.
But for many people, seeing is believing. There is one way to spot the denizens of Earth's orbit, but it doesn't involve radar tracking, satellites, or photographs. Just go outside on a clear night with little moonlight, find a spot with minimal light pollution and look up at the stars. Once your eyes adjust, you should be able to see small pinpricks of light moving steadily across the sky, smaller and steadier than an airplane. Those are some of the hundreds of satellites that are large and low enough to be spotted from Earth. While the smaller objects that make up the majority of items floating around our planet are far too tiny to ever be seen with the naked eye, there are enough large satellites orbiting the Earth that you should be able to spot at least a few. All you have to do is look up.
WEDNESDAY EDITION: I cannot find a lot of info on setting up an endfed dipole. I have a Balun Design 9-1 Unun and put the balun a foot above ground and slope 53 feet (suggested length) of antenna wire up to 30' in the air. I fed the setup with 73 feet of coax running under the sloping wire. It worked but are there better options? Should I run the wire up 30 feet vertically (I have a 30 foot telescoping pole) and slope the rest of the antenna wire down? Should the unun be up 30 feet and run wire out vertically or sloped? Any ideas? I use this antenna only as a backup or for portabe ops, it is not my main antenna.....TRIVIA: There are about 3 million amateur radio operators worldwide, including more than 700,000 licensed operators in the United States alone. Amateur radio operators are also known as radio amateurs or hams.
It's CLE time once again. This is a challenge for all newcomers to NDB listening and the ultimate test of your medium frequency receiving capabilities. Can you meet the challenge?
'CLE's are 'Co-ordinated Listening Events, and NDB DXers around the world focus their listening time on one small slice of the NDB spectrum.
It's a little different this time, with beacon hunters asked to report NDBs heard on any and all of the 10kHz markers only ... ie. 350, 360 ..
A central target for listeners in North America is YIV - 300 kHz in Island Lake, Manitoba. Listen for YIV's upper sideband on 300.401 kHz. YIV's 500 watts is widely heard throughout North America and has been logged in Europe. Can you find it?
When tuning for NDBs, put your receiver in the CW mode and listen for the NDB's CW identifier, repeated every few seconds. Listen for U.S. NDB identifiers approximately 1 kHz higher or lower than the published transmitted frequency since these beacons are modulated with a 1020 Hz tone approximately.

For example, 'AA' near Fargo, ND, transmitted on 365 kHz and its upper sideband CW identifier was tuned at 366.025 kHz while its lower sideband CW ident could be tuned at 363.946 kHz. Its USB tone was actually 1025 Hz while its LSB tone was 1054 Hz.

Often, one sideband will be much stronger than the other so if you don't hear the first one, try listening on the other sideband.

Canadian NDBs normally have an USB tone only, usually very close to 400 Hz. They also have a long dash (keydown) following the CW identifier.

All NDBs heard in North America will be listed in the RNA database (updated daily) while those heard in Europe may be found in the REU database. Beacons heard outside of these regions will be found in the RWW database.
Story from a ham friend- Curt in Littleton, NH
Robin Hard
It's early summer. The grandchildren are due up. That means unless I schedule some outdoor adventures I will be losing a great many board games. I hate to lose. Those kids play Monopoly like the mob runs casinos. Secret deals, ganging up on the suckers, all of it. Everything but kneecapping the winners.
My plan year before last was to build a large arrow target, which I did, and take them out to teach them archery. This backfired. I had not pulled a bowstring since summer camp when I was 10 years old. The result was that both my grandchildren were much better shots than I was. (As in hit the target at all). Their bows had bunnies and kitty stickers, but shot ok. I had ordered them from a professional bow shop.
So I was ready this year. I had gone on the Internet, looked at the prices of professional archery gear, and after a really bad sticker shock ($1750), finally found some gear at a discount. The item in question "Adult Compound Quality Target Bow" was only $120, but the pop up said that bow shipped (disassembled) but for an additional $50 I could get "professional setup" which was strongly recommended.
What a scam! I remembered from camp. Bow + string = assembled. I sent the $120.
When it arrived, I was puzzled. The box was two feet long, but very heavy. Inside were multiple plastic bags and a large warning not to lose anything opening the bags. I cleared the dinner table, got the scissors, and took inventory. There were cables, there were pulleys, there were bushings, there were circlips, there was a bowstring, bow pieces, and poor instructions. I had no idea.
Back to the Internet and I found a copy of "The Compound Bow" for $24, with only $12 for express shipping. It came the next day, and I began bolting the thing together. I then discovered I needed a "bow press", which bent the bow while you struggled with the cables.
I got the bow press ($40), tried to put the cables on, and was defeated. Each pully had not one setting, but five. I was lost. The pictures were unclear and the Chinglish baffling. Fortunately, I had the number of a Bow Shop which had been very helpful in getting the kid's bows, so I called them.
"World of Archery, Shop services, can I help you
"Curt. You helped me with buying my grand kids's bows last year."
There was a silence. Then.
"Oh yes, I clearly remember you, Sir. I had to take my migraine medicine."
"I am having a little trouble assembling a bow."
"What Brand?"
"Er, Feng Shui Champion."
There was a patient silence.
"Do you have a piece of paper? A big one? Sit down, and I will give you the instructions."
Ten minutes and $100 later, I had a complete set of instructions in English and an order for the other things I would need. This guy, I believed
Four hours later, I had the bow assembled, and strung. I was ready to install the arrow rest, the peep sight, the silastic cord, the draw loop, and the string dampers. This involves NOT dropping the little screws, and using your dexterous fingers to fix things in place using little tiny screws and wrapping the string. Using the tiny "T" square kind of thing I did all of this despite my total lack of dexterous.
I was ready to sight it in.
Out to the target. Pulllll! Bwang!
The draw loop had pulled out. I had not done it right. Re-install draw loop and melt the ends into big plastic blobs. This involved a fifteen minute hunt for matches.
Pullllll. Bwang!
The peep sight had pulled out, I had tied the silastic cord wrong. Re-install peep, tie cord properly.
Pulll. Thwack. I hit the target about a foot off at ten yards.
Adjust sights. Multiple times.
Pullll. Thwack. On Target
Set at 10, 20 and 50 yards.
I could now shoot as well as a 10 year old. Good enough.
Pull arrows out of target. The heads come off.
Lessons learned. Buy from a real bow shop. Pay for someone else to set up bow. Do not buy the cheapest internet arrows. Read the WHOLE instruction book.
Learn to lose at board games.
MONDAY-TUESDAY EDITION: Not much in the way of ham news. I think everyone is hammed out after the weekend. I only operated for a few contacts and listened to propagation on all the bands.....What is it like driving on the moon?...Why the US Army wants an 'aerial tier network' for better communications .....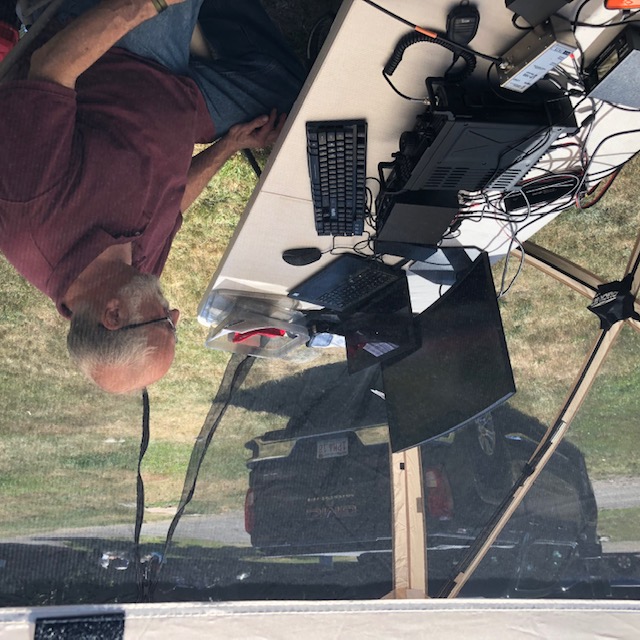 Larry- AJ1Z operating FD in Rockport, MA
Larry's solar array to keep things charged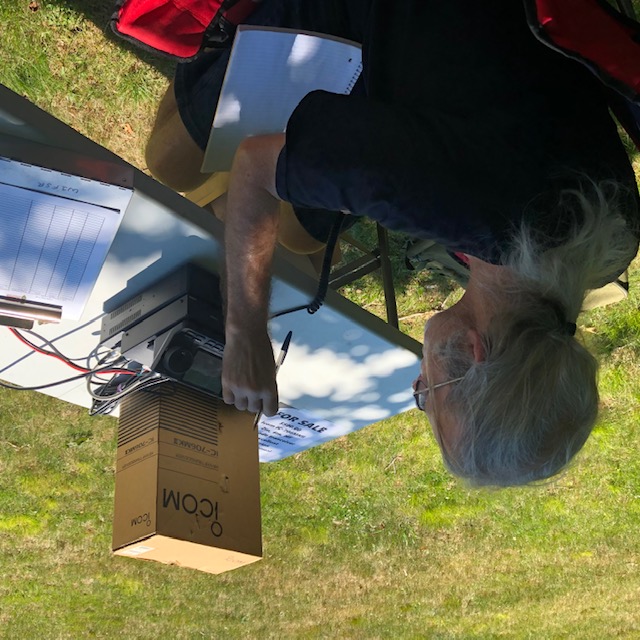 Rich- W1FSR running his 7100
WEEKEND EDITION: Almost out the door to setup for Field Day in Rockport with the Cape Ann Amateur Radio Club..The ghostly radio station that no one claims to run...
PORT CITY RADIO ARC SETS UP...NH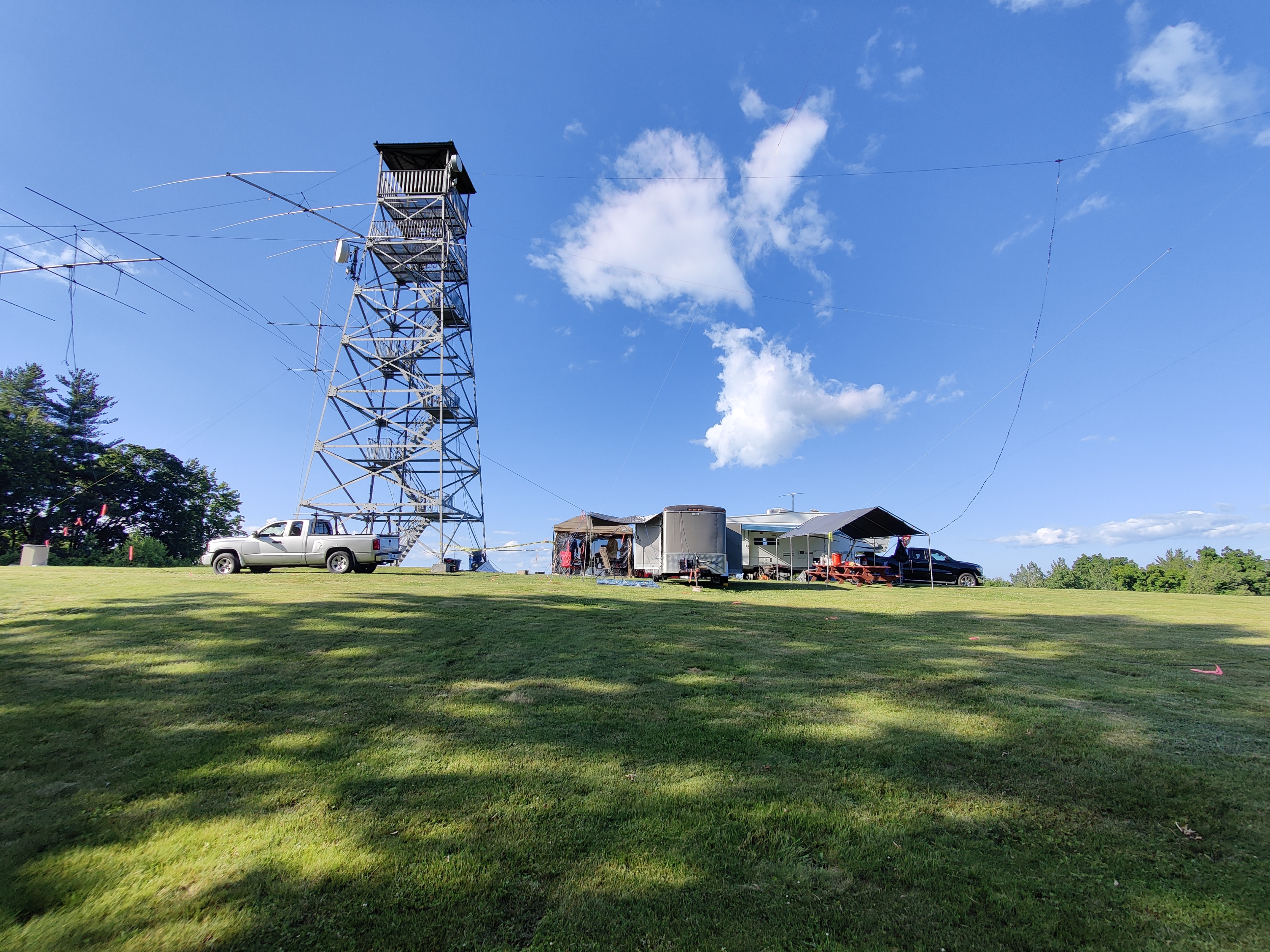 Here's our days work...
Monoband beams for 40M (3 element wire), 20M (3 elements), 15M (4 elements), 10M (4 elements), 6M (4 elements)
Inverted Vee at 65' for 75/80M Cobra Senior (GOTA station)
Amateur Radio Newsline Report

**
BRINGING AMATEUR RADIO TO A MORE DIVERSE COMMUNITY

STEPHEN/ANCHOR: We begin this week with a look at a special project that is creating amateur radio opportunities for a more diverse community of enthusiasts, starting with the very youngest among them. We hear from Ralph Squillace KK6ITB how this initiative is putting ham radio — and science — into the hands of children of color in lower-income neighborhoods.

RALPH: Get ready for Jasmine and Jose, two school kids who fell in love with amateur radio after visiting a family friend who's a ham. Now the friends want to build a simple radio of their own. While these two children are fictional characters in a book that tells their story in both Spanish and English, the magnetic - or should we perhaps say electromagnetic? - draw of kids to amateur radio is very real. That's why the science educators at the California-based nonprofit group, Science is Elementary, is preparing to publish this tale of the youngsters' amateur radio journey as a book in their new series. "Jasmine and Jose Build a Radio" is geared to 7-year-old readers and will be produced with accompanying kits for 2,240 youngsters. The project is being funded with a grant from Amateur Radio Digital Communications. The grant will include publication of companion readers for adults and will cover the costs of school-based activities in which the kids build radios of their own. The books and kits will be provided free to youngsters attending school in low-income communities in the San Francisco Bay area. If you don't live in the region, take heart: Everyone else will be able to download the book and the adult reading companion for free as PDFs.

For Amateur Radio Newsline I'm Ralph Squillace KK6ITB.

(DAN ROMANCHIK, KB6NU)

**
CARRIERS DELAY PART OF 5G ROLLOUT AFTER INTERFERENCE CONCERNS

STEPHEN/ANCHOR: Concerns about radio interference have prompted two US wireless carriers to delay part of the rollout of their 5G service. Kent Peterson KCØDGY brings us that report.

KENT: Despite findings from the Federal Communications Commission that 5G wireless service poses no risks to aircraft sharing different parts of the same C-band, two major US cellular carriers have announced they are delaying their 5G rollout near airports with regional carriers. The Federal Aviation Administration announced on June 17th that Verizon and AT&T have agreed to postpone parts of the rollout to enable airlines to assess whether their altimeters are free from interference and undertake any necessary upgrades. Aviation experts have said that some altimeters, particularly those used by regional aircraft, could be vulnerable to interference without a retrofit of RF filters on existing altimeters or installation of newer ones. The agreement delays the completion of the rollout until July of 2023. An article in Aviation Today said that a number of altimeter manufacturers are presently working on the development and testing of filters and installation kits.

The trade group, Airlines for America, criticized the agreement for setting what it called an "arbitrary deadline" and expressed concern over what might happen if the altimeter modifications were not available by July of next year. The CEO of the trade group, Nicholas Calio, told the FAA's acting administrator Billy Nolen that he considered the agreement a [quote] "rushed approach to avionics modifications amid pressure from the telecommunications companies." [endquote]

For Amateur Radio Newsline, I'm Kent Peterson KCØDGY.


(ASSOCIATED PRESS, AVIATION TODAY)

**

WRTC ORGANIZERS DONATE EQUIPMENT FOR NEXT YEAR'S EVENT

STEPHEN/ANCHOR: The spirit of "paying it forward" is alive and well among organizers of the World Radiosport Team Championship - and Ed Durrant DD5LP has this story about a gift to help with next year's big event.

ED: Operating tips and the wisdom of experience aren't the only things being dispensed at the Contest Forum during HAM RADIO in Friedrichshafen, Germany starting on the 24th. Organisers of 2018's World Radiosport Team Championship will be at the forum on June 25th to present funds and important equipment for use during the world championship to take place in July of 2023 in Bologna, Italy. The gift will include 70 kits of emergency and monitoring equipment that had been used during WRTC 2018 in Germany. Each kit has a DCF77 radio-controlled clock, power sensor for two radios, an SCC score-collecting computer and a Nokia cell phone. The donation from the 2018 event will be presented by WRTC 2018 president Chris DL1MGB.

Writing on the WRTC 2022 reflector, committee member Claudio Veroli I4VEQ, thanked the benefactors from the German event, calling the donation "a huge help to the organisation of WRTC 2022."

For Amateur Radio Newsline, I'm Ed Durrant DD5LP.


(WRTC 2022 REFLECTOR)

**
BALLOON LAUNCH TO FEATURE CROSSBAND REPEATER

STEPHEN/ANCHOR: Amateurs in Kansas have rescheduled the launch of a high-altitude balloon with a crossband repeater on board and they're hoping to keep it busy making contacts. Jack Parker W8ISH has those details.

JACK: Good things are worth waiting for and members of the Independence Amateur Radio Club, NØID, only have to wait a little bit longer for the rescheduled launch of the high-altitude balloon they are sending skyward with a crossband repeater and APRS on board. The Kansas hams are especially excited because the launch, rescheduled from earlier this month, will coincide with the Great Plains Super Launch on July 16th. The Super Launch is a wide-ranging event in which a number of similar balloons will be launched at sites throughout the Midwest. Stan Pierson, AEØLM, secretary of the Independence club, told Newsline that during the club balloon's expected two-hour flight over southeast Kansas, it will communicate with one of the Super Launch balloons flying high over Wisconsin. Using a common downlink, but separate uplinks, the balloons will permit radio operators in both areas to talk to one another using VHF/UHF radios. The crossband repeater has an uplink on 147.91 MHz and a downlink on 449.01 MHz. Stan said that the repeaters will be configured to work bidirectionally so that anything received on the VHF frequency is repeated on the UHF frequency - and vice versa.

Those who cannot be on site at Riverside Park for the launch or reside out of the area and wish to track the balloon can follow its journey following the 8 a.m. launch that day at www dot aprs dot fi (www.aprs.fi)

Additional details are available at the club website at nØid.org

For Amateur Radio Newsline I'm Jack Parker W8ISH.

(SUPERLAUNCH.ORG, STAN PIERSON, AEØLM)

**
JUST FOR FUN: A NOT-SO-TRIVIAL QUIZ

STEPHEN/ANCHOR: Now here's something that's just for fun: If you think you know ham radio, play along with two teams during a trivia quiz you'll be able to watch online starting Tuesday June 28th. As we hear from Paul Braun WD9GCO, one team's members are very familiar to Newsline listeners.

PAUL: A team from Amateur Radio Newsline took part in an event that was was both trivial and non-trivial at the same time.

The Newsline team, consisting of captain Paul WD9GCO, Neil WB9VPG, Kevin N5PRE, Andy K9AWM, and Dave WB8ODF squared off against a team from the Ham Radio Workbench podcast led by team captain George Zafiropoulos KJ6VU in an amateur radio trivia contest hosted by Kyle Krieg AAØZ.

The two teams fought four rounds featuring questions that ranged from general ham radio knowledge to specialized technical topics. We can say that the teams were very evenly matched, but we won't tell you who won - that would spoil all the fun, wouldn't it?

The competition will be released in two different forms on Tuesday, June 28th — in video on Kyle's YouTube channel and in audio format on the Ham Radio Workbench feed. You will find links to both in the text version of this newscast on our website.

According to all who participated, it was a lot of fun and both sides made new friends, as should happen in ham radio events. And we're ready for a rematch any time they're ready.

For Amateur Radio Newsline, I'm Paul Braun, WD9GCO

[FOR TEXT VERSION OF NEWSCAST - LINKS ARE https://www.youtube.com/c/KyleAA0Z

hamradioworkbench.com ]

**
BREAK HERE: Time for you to identify your station. We are the Amateur Radio Newsline, heard on bulletin stations around the world, including WW7SEA, the Columbia Center Repeater in Seattle, Washington at 444.550 MHz on Mondays at 9 pm local time.

**
SWEDISH HAM RADIO OPERATOR TO BECOME ARCHBISHOP

STEPHEN/ANCHOR: There are many prominent positions radio amateurs have achieved over the years, from United States Senator, to the monarchy in nations like Jordan or Thailand. In Sweden, Defence Minister Peter Hultqvist holds the amateur radio callsign SM4HCF. Now you can add the Church of Sweden's incoming archbishop to that list, as we hear from Jeremy Boot G4NJH.

JEREMY: The Church of Sweden has elected Martin Modeus SM5LVQ to be the 71st Archbishop of the Church of Sweden. According to the Swedish Society of Radio Amateurs, Martin already serves the church as bishop of the Diocese of Linköping, the fifth largest city in Sweden, located in the south of the country. Martin will be received as archbishop during a service to be held in December at Uppsala Cathedral, which has been the see of the Church of Sweden's archbishop since the 12th Century. Martin is to succeed Antje Jackelen, Sweden's first female archbishop, who is retiring.

For Amateur Radio Newsline I'm Jeremy Boot G4NJH.

(SWEDISH SOCIETY OF RADIO AMATEURS)

**
SPECIAL EVENT IN AUGUST TO HONOR ABANDONED, ABUSED PETS

STEPHEN/ANCHOR: If you think amateur radio is going to the dogs, you're right - but those dogs are getting plenty of company, as we hear from Ed Durrant DD5LP.

ED: The dog days of August will soon be upon us and so too will August 26th, known as International Dog Day. A number of hams around the world have decided to run with the pack by getting special event call signs and getting on the air to publicize the needs of abandoned and abused pets who have ended up in shelters - dogs as well as cats. Hanz, YL3JD, wrote in a QRZ.com forum that he will be operating CW from his shack in Latvia using the call sign YL1DOG starting on Monday the 22nd of August until the 26th. Hanz wrote: [quote] "I feel obligated to give exposure to this. In my power as a radio amateur and animal lover bringing attention to these abandoned pets is the least I can do." There are plans for other call signs to be on the air too, including Joop PG4I, signing as PF6DOG, and Edwin, PDØSOT, signing as PD6DOG. International Cat Day is being celebrated on August 8th. Yevgeny, YL2TD, will be among those on the air from the 7th until the 9th of August. He will be using the call sign YL1CAT.

The list is growing but organizers are looking for even more operators to call QRZ on behalf of shelter animals. Visit the website catsanddogsontheair.com to get the details. Then email Hugo CT7AOV to have your station included on the list.

For Amateur Radio Newsline I'm Ed Durrant DD5LP.

(QRZ, CATSANDDOGSONTHEAIR.COM)

**
TWO GRANTS SUPPORT OPEN-SOURCE PROJECTS FOR HAM RADIO

STEPHEN/ANCHOR: Two grants have strengthened the practice of sharing and experimenting through open-source programs used for amateur radio. Andy Morrison K9AWM tells us what's going on.

ANDY: Amateur Radio Digital Communications has announced two grants supporting open-source initiatives in amateur radio. One is a grant focusing on software-defined radios, designed to help simplify the use of the open-source software development kit, GNU Radio, on Windows computers. The grant is also being given to support an upgrade of GNU Radio's graphical user interface, known as GNU Radio Companion. These funds will permit the hiring of developers, including a usability expert to improve the experience of using GNU Radio Companion. Other expected improvements include better documentation for GNU Radio, easier installation on MacOS and Windows computers and easier installation of out-of-tree modules. The contract workers will receive guidance from volunteer mentors who are with the GNU Radio group.

The other grant will support experiments by students at Bradley University in Peoria, Illinois, who are experimenting on the 33 cm band, developing an open-source 915 MHz digital transceiver system. Both the hardware and software are open-source and the design supports multiple FSK/ASK modulation standards. According to the ARDC, the project will permit low-cost experimentation with digital protocols on this underutilized band and will fill a need that exists for available open-source and open-hardware modules for digital radio modes.

For Amateur Radio Newsline I'm Andy Morrison K9AWM.

(DAN ROMANCHIK KB6NU)

**
WORLD OF DX

In the World of DX, there are a few days left to work members of the Russian DX Team operating with the call sign Z21RU from Harare, Zimbabwe. They are on the air until June 29th, operating on 160 through 6 meters and on the QO-100 satellite. They are using CW, SSB and the Digital modes. QSL via R7AL, ClubLog or LoTW.

Two special-event call signs are on-air from operators in Algeria. Listen for Kamel, 7X2GK, operating as 7R19MG; and the Djefa Amateur Radio Club, 7X2VFK, using the call sign 7Y19MG. They are active between June 25th and July 5th for the 19th Mediterranean
Games being held in Oran, Algeria. QSL 7R19MG via IK2DUW and 7Y19MG via 7X2VFK.

Listen for Alex, AK4AM, operating as AK4AM/p from Emerald Island, IOTA NA-112, between July 3rd and 9th. He will be calling QRZ on 160-10 meters. QSLs only using LoTW.

(OHIO PENN DX)

**
KICKER: TIME TO READ MORE THAN JUST YOUR S-METER

STEPHEN/ANCHOR: Finally, in this part of the world where we produce Amateur Radio Newsline, summer has arrived - and for many that means it's time to read something more than just your S-meter. Randy Sly W4XJ shares some suggestions.

RANDY: It's that time of year when some amateur radio operators abandon their shacks and head outdoors for the lazy crazy hazy days of summer. Whether you're sitting quietly on a beach, enjoying a mountain view or taking your hobby with you at a POTA station in a park, there may be times when you say, "What else can I do?" Well, when you're not operating ham radio, how about reading about ham radio? Not one of those technical manuals or heavy theory books, but a book about radio, about communicating, and all the fascinating and dramatic stories that go with it.

With the help of Russell Calabrese, KR2NZ, the book club moderator for the Long Island CW club, I came up with a list of books that may make good summer reading for those moments when you're off the air. If you enjoy history, how about the "The World of Ham Radio," covering amateur radio in the early 20th century. Or try "Code Girls, The Untold Story of American Women Codebreakers of WWII." There's also "Brass Pounders, Young Telegraphers of the Civil War." Want to know how single sideband started? You can read "Wes Schum, Amateur Radio's Unsung Hero." Then there's the book by Don Keith, N4KC, "Riding the Shortwaves," which contains some how-tos, along with fun anecdotes, stories and personal advice. For these and other recommendations, check our longer list in the the text version of this week's newscast at arnewsline.com.

For Amateur Radio Newsline, I'm Randy Sly, W4XJ

[FOR PRINT ONLY: ADDITIONAL SUGGESTED BOOKS FOR SUMMER READING]

"The World of Ham Radio, 1901-1950" - Richard Bartlett
"Wes Schum: Amateur Radio's Unsung Hero" - Dominic Tusa
"Code Girls: American Women Codebreakers of WWII" - Liza Mundy
"Brass Pounders: Young Telegraphers of the Civil War" - Alvin F. Harlow
"Riding the Shortwaves: Exploring the Magic of Amateur Radio" - Don Keith, N4KC
"Playing with Meteors" - Eric Nichols, KL7AJ (CQ books)
"The Collected Works of Professor Emil Heisseluft" (Humor) - Dr. Theodore J. "Ted" Cohen, N4XX (CQ Books)
"Secret Wireless War" - Pidgeon, Geoffrey (ARRL books)
"Storm Spotting and Amateur Radio 3rd Edition" - Michael Correy, W5MPC, Victor Morris, AH6WX (ARRL books)
"The life of St. Maximilian Kolbe: Apostle of Mass Communications" - William L LaMay, K3RMW
"200 Meters and Down" - Clinton DeSoto
"The Land God Gave to Cain" - Hammond Innes
FRIDAY EDITION: Get well quick to Chris W1TAT now at the Addison Gilbert Hospital in Gloucester..Nancy Polosi's husband arrested for drunken driving again in his new Porsche, who wouldn't drink married to her? ...
2022 ARRL Field Day Weekend -- Are You Ready?
06/25/2022
One of the most anticipated amateur radio operating events of the year in the United States, Canada, and worldwide is this weekend. ARRL Field Day kicks off at 1800 UTC on Saturday, June 25, and concludes at 2059 UTC on Sunday, June 26. Last year, almost 27,000 individuals participated in ARRL Field Day, logging over 1.4 million two-way radio contacts during the event.
For 2022, there are some new rule changes in effect. Beginning this year, all stations, regardless of operating class, are limited to 100 W PEP transmitter output. The rule waivers that were in effect for the past 2 years -- allowing Class D (home stations) to contact other Class D stations for points, and the publishing of a Club Aggregate Score -- have been made permanent. Additionally, for groups claiming media publicity bonus points, the rules now stipulate that you must obtain media coverage for your event, not simply attempt to do so. For complete Field Day rules see
www.arrl.org/field-day
.
ARRL Field Day is amateur radio's open house -- an opportunity to showcase what amateur radio is all about to the public. Some groups use Field Day as an exercise in emergency preparedness, others treat it as a competition, and for some, it's a social gathering. Field Day is entirely what you make of it.
If you're a newly licensed ham and you would like to know where a group in your area is hosting a Field Day event, visit the ARRL Field Day Station Locator web page at
www.arrl.org/field-day-locator
.
How will you or your radio club participate in ARRL Field Day? You can let others know about your planned activity before, during, and after the event via social media on the ARRL Field Day Facebook page at
facebook.com/groups/arrlfd
. When sharing your activities or photos, please use the hashtags #ARRLFD #ARRL #hamradio and #amateurradio.
After the event, be sure to submit your Field Day entry to ARRL by using the web-based submission form at
field-day.arrl.org/fdentry.php
. Participants are also encouraged to submit their Field Day stories and photos via the soapbox at
field-day.arrl.org/fdsoapbox.php
. Entries are due 30 days after the conclusion of the event at 2059 UTC on Tuesday, July 26, 2022.
The Space Weather Woman
The latest space weather forecast from Dr Tamitha Skov WX6SWW
Portugal takes action against illegal communications equipment
Portugal's communications regulator ANACOM reports it inspected 26 vessels with the Maritime Police

A translation of the ANACOM post reads:

ANACOM carried out, during May 2022, together with the National Maritime Authority (Maritime Police) and, in some cases, the Authority for Working Conditions (ACT), various inspection actions on vessels. In total, ANACOM supervised 26 vessels, including fishing grounds and tourist vessels.

On 26 and 27 May, the actions involved the three authorities and took place in the fishing ports of Nazaré and Peniche, and the legality of the means of communication installed on board six coastal fishing vessels (two in Nazaré and four in Peniche) was verified. The radio stations were installed and operating in accordance with the legislation in force.

Between 17 and 20 May, ANACOM carried out an action with the Maritime Police in the Autonomous Region of Madeira, and a total of fourteen vessels were inspected, including fishing vessels (five) and maritime-tourist vessels (nine). Nine of the fourteen vessels were first inspected. All vessels surveyed presented radio stations accordingly.

On May 10, an ANACOM inspection action was carried out with the Maritime Police in the Port of Leixões, to six fishing vessels. In this case, an illicit transceiver of the land mobile service was seized.

These actions aim to verify the status, operability and correct use of radio communications equipment installed on board vessels.

If they are not being used in proper conditions, or malfunctioning or in inadequate spectrum ranges, this equipment may interfere with other services and may hinder the proper functioning of emergency communications.
Five planets to line up in rare planetary conjunction
BBC News report that five major planets in our solar system will shine brightly in a row during a rare planetary conjunction from Friday.
If the sky is clear, the naked eye alone will be enough to see Mercury, Venus, Mars, Jupiter, and Saturn glowing before dawn.
It's a special opportunity to see Mercury, which is usually obscured from view by the Sun's bright light.
The conjunction is best seen on Friday but will remain visible until Monday from most parts of the world.
The last time this conjunction happened was 2004 and it won't be seen again until 2040.
Read the full BBC News article with illustrations
DX News from the ARRL
June 24, 2022
This week's bulletin was made possible with information provided by The Daily DX, the OPDX Bulletin, 425 DX News, DXNL, Contest Corral from QST and the ARRL Contest Calendar and WA7BNM web sites. Thanks to all.
YEMEN, 7O. David, DL7ZM is QRV as 7O/DL7ZM from Socotra Island, IOTA AF-028, until July 3. Activity is on 10 meters using CW and FT8, and on 6 meters as well. QSL via QRZ.com
ALGERIA, 7X. Special event stations 7R19MG and 7Y19MG are QRV until July 5 for the 19th edition of the Mediterranean Games to be held in Oran. QSL via IK2DUW and 7X2VFK, respectively.
MADEIRA ISLANDS, CT3. Joe, HA2EAV and Csaba, HA2KMR are QRV as CT9/HA2EAV and CT9/HA2KMR, respectively, until June 28. Activity is holiday style on the HF bands. This includes being active as CR3DX in the His Majesty King of Spain SSB contest. QSL via operators' instructions.
ST. PIERRE AND MIQUELON, FP. Eric, KV1J will be QRV as FP/KV1J from Miquelon Island, IOTA NA-032, from June 28 to July 12. Activity will be on the HF bands with a focus on 60 and 6 meters. This includes being an entry in the upcoming IARU HF Championship contest. QSL to home call.
HONDURAS, HR. Alex, K6VHF will be QRV as HR9/K6VHF from Roatan Island, IOTA NA-057, from June 27 to 31. Activity will be on 80 to 10 meters, and possibly 6 meters, using CW, SSB, and FT8. QSL to home call.
THAILAND, HS. Jerry, HS0ZOY is QRV from Buri Ram. He is active on 160 to 10 meters. QSL to home call.
OGASAWARA, JD1. Koh, JD1AJD is QRV until July 2. Activity is on 20 to 6 meters using CW, FT8, and FT4, with a focus on 6 meters. QSL via JA1ADT.
BULGARIA, LZ. Special event station LZ18NATO is QRV until June 30 to commemorate the 18th anniversary of Bulgaria's NATO membership. QSL direct to LZ2VP.
PERU, OA. Daniel, IK2SGL is QRV as OA9DVK until the end of August. Activity is on the HF bands using CW and SSB. QSL via IK6BFH.
MARKET REEF, OJ0. Henri, OH3JR and Pertti, OG2M will be QRV as OJ0JR and OJ0MR, respectively, from June 26 to July 6. They are here on work assignment. Activity will be in their spare time on the HF bands using CW, some SSB, and FT8. QSL OJ0MR direct to OG2M and OJ0JR via OH3JR.
GREENLAND, OX. Bo, OZ1DJJ will be QRV as OX3LX from Upernarvik Island, IOTA NA-134, from June 27 to July 11. Activity will be on the HF bands with a focus on 6 meters and 4 meters. QSL via OZ0J.
GREECE, SV. Rolf, HB9TUP is QRV as SV8/HB9TUP from Naxos Island, IOTA EU-067. Activity is on the HF bands. His length of stay is unknown. QSL direct to home call.
MACQUARIE ISLAND, VK0. Matt, VK5HZ is QRV as VK0MQ and will be stationed here for a few months. Activity is in his spare time on the HF bands using SSB and FT8. QSL via LoTW.
ZIMBABWE, Z2. Members of the Russian DX Team are QRV as Z21RU from Harare until June 29. Activity is on 160 to 6 meters, and Satellite QO-100, using CW, SSB, and various digital modes with several stations active. QSL via R7AL.
THIS WEEKEND ON THE RADIO
ARRL Field Day, QRP 20-Meter CW Fox Hunt, NCCC RTTY Sprint, NCCC CW Sprint, K1USN Slow Speed CW Test, Pajajaran Bogor SSB DX Contest, UFT QRP CW Contest and His Majesty King of Spain SSB Contest will certainly keep contesters busy this pcoming weekend\
THURSDAY EDITION: A chilly start but a great day...
AMSAT Field Day 2022 on the Satellites
It's that time of year again; summer and Field Day! Each year the American Radio Relay League (ARRL) sponsors Field Day as a 'picnic, a campout, practice for emergencies, an informal contest and, most of all, FUN!' The event takes place during a 23-hour period on the fourth weekend of June.
For 2022 the event takes place during a 27-hour period from 1800 UTC on Saturday June 25, 2022 through 2100 UTC on Sunday June 26, 2022. Those who set up prior to 1800 UTC on June 25 can operate only 24 hours. The Radio Amateur Satellite Corporation (AMSAT) promotes its own version of Field Day for operation via the amateur satellites, held concurrently with the ARRL event.
This year should be as easy as last year since we have more than 10 transponders and repeaters available. Users should check the AMSAT status page at http://www.amsat.org/status/ and the pages at https://www.amsat.org/two-way-satellites/ for what is available in the weeks leading up to field day. To reduce the amount of time to research each satellite, see the current FM satellite table at https://www.amsat.org/fm-satellite-frequency-summary/ and the current linear satellite table at https://www.amsat.org/linear-satellite-frequency-summary/
If you are considering ONLY the FM voice satellites, there are ISS, SO-50, AO-91, PO-101 and possibly LilacSat. It might be easier this year to make that one FM contact for the ARRL bonus points with so many FM birds. The congestion on FM LEO satellites is always so intense that we must continue to limit their use to one-QSO-per-FM-satellite. This includes the International Space Station. You will be allowed one QSO if the ISS is operating Voice.
It was suggested during past field days that a control station be allowed to coordinate contacts on the FM satellites. There is nothing in the rules that would prohibit this. This is nothing more than a single station working multiple QSO's. If a station were to act as a control station and give QSO's to every other field day station, the control station would still only be allowed to turn in one QSO per FM satellite while the other station would be able to submit one QSO.
The format for the message exchange on the ISS or other digital packet satellite is an unproto packet to the other station (3-way exchange required) with all the same information as normally exchanged for ARRL Field Day,
e.g.:
W6NWG de KK5DO 2A STX
KK5DO de W6NWG QSL 5A SDG
W6NWG de KK5DO QSL
If you have worked the satellites on Field Day in recent years, you may have noticed a lot of good contacts can be made on some of the less-populated, low-earth-orbit satellites like FO-29, AO-7, EO-88 or the XW satellites. During Field Day the transponders come alive like 20 meters on a weekend. The good news is that the transponders on these satellites will support multiple simultaneous contacts. The bad news is that you can't use FM, just low duty-cycle modes like SSB and CW.
More information may be found at https://bit.ly/39nefgb. Rules in downloadable format: https://bit.ly/3QpJc44. The fillable scoresheet is included in the Rules download.
Bruce Paige, KK5DO
AMSAT Director of Contests & Awards
Lesotho
Mark, KW4XJ, who previously operated as 9L1YXJ from Sierra Leone, has now moved on to Lesotho's capital Maseru and is signing 7P8AB.
His equipment is an IC-7300 and a vertical antenna. Activity will be on various HF bands using CW, SSB, and the Digital modes.
His wife Arina, KO4PZT, holds the callsign 7P8NB.
QSL 7P8AB via KW4XJ, direct or by the Bureau. QSL 7P8NB via KO4PZT, direct or by the Bureau.
WEDNESDAY EDITION: Last day of work and last time I will ever teach again. Some of you know I got a call to come back in November and teach voke after a teacher was let go. I couldn't believe they couldn't find another teacher but that was the case. It was quite an experience to say the least, the kids are nothing like the kids I left 18 years ago (I retired from teaching at 57 and went on a building spree with my partner). We built three spec homes a year and developed a few parcels of land as well as flipped a dozen homes over the years. It was fun and I am done!. I am looking for a home on a lake in NH as a vacation spot for the family.....
Successful Morse code day in Open Air Museum Arnhem
VERON reports on June 12, radio amateurs gave information and demonstrations about 'Morse code as a means of communication' to the public of the Open Air Museum Arnhem

A translation of the VERON post reads:

The interest of the visitors was great. Many were extensively informed. The number of people who wanted to take an "aptitude test" was also above expectations. All in all a very successful day.

This activity was dominated by Morse code as intangible cultural heritage, a status that Morse code received in the Netherlands in 2014.

For this occasion, the grounds of the Open Air Museum was temporarily transformed into an improvised shack and demonstration space. This was already done on Saturday June 11 by Okko PH2CV, Ernst PA1EJO and Rob PA5V.

On Sunday, June 12, visitors to the farm-shack received information about amateur radio in general and Morse code in particular. Many guests had heard of Morse code, some "of the movie", others had to think of "the war".

Okko PH2CV or Rob PA5V meanwhile made CW-QSOs and used the special call sign PA6OLM (Open Air Museum). The speed with which they ended garnered great admiration, especially when they also gave explanations during signaling.

Guests could also try their own Morse skills. One of the instructors (Henk PA0HPV or Okko PH2CV) first told the candidate how he could convert his own nickname into Morse signs, without revealing that name to the instructor. Then he had to "signal" his name and the instructor had to "record". Of course, the graduates received a certificate to take home.

The Open Air Museum had 2290 visitors on June 12, of whom the VERON team received about 400. Many of them were interested in Morse code for fifteen minutes or more. In addition, Henk PA0HPV awarded more than 40 Morse proficiency certificates. All this gave the team (Remy PA0AGF and XYL Geke, Okko PH2CV, Rob PA5V, Henk PA0HPV, Ernst PA1EJO and Erwin PE1CUP) a lot of satisfaction. This activity is well worth repeating.

Source VERON https://tinyurl.com/IARU-Netherlands
Fidelity Amateur Radio Club to participate in Field Day
Ham radio operators from the Fidelity Amateur Radio Club of Rhode Island will be participating in a national amateur radio exercise from 2:00pm on Saturday until 2:00pm on Sunday, June 25 – 26. The event is ARRL Field Day (www.arrl.org/FieldDay), an annual amateur radio activity organized since 1933 by ARRL, The National Association for Amateur Radio in the United States. For the 2nd year in a row the club will be participating in Field Day from the historic New England Wireless and Steam Museum at 1300 Frenchtown Rd. in East Greenwich.
Amateur radio operators from across North America ordinarily participate in Field Day by establishing temporary ham radio stations in public locations to demonstrate their skill and service. Their use of radio signals, which reach beyond borders, bring people together while providing essential communication in the service of communities. Field Day highlights ham radio's ability to work reliably under any conditions from almost any location and create an independent, wireless communications network.
Read the full story at:
https://warwickonline.com/stories/fidelity-amateur-radio-club-to-participate-in-field-day,174712?
Opening up more spectrum for satellite services
Ofcom is proposing to allow satellite operators to access more spectrum so they can provide a wider range of broadband services, including in hard-to-reach areas.
As consumer demand for satellite services increases, we want to support innovation by extending spectrum access under our Earth Station Network licence to include the 14.25-14.5 GHz band.
This would double the capacity available to satellite operators in what is known as the "Ku band", meaning they would be able to use the full 14-14.5 GHz band for their services.
This would support better broadband for more rural homes and businesses, as well as connecting planes and ships. In the future, these new frequencies could also help connect road vehicles, trains and drones, including in more remote parts of the UK.
As part of this approach, new conditions would also be introduced to protect existing radio astronomy sites making observations in the 14.47-14.5 GHz band from interference. We also plan to introduce temporary conditions to protect any fixed links remaining temporarily in the band.
Our consultation on these proposals is open until 31 August 2022.
Separately, Ofcom has received licence applications from Starlink Ltd for six non-geostationary satellite earth stations. These are large satellite dishes on the ground that connect the satellite network to the internet.
We are considering Starlink's submissions, including whether they can coexist with other satellite systems in close proximity, and any potential risks to competition.
TUESDAY EDITION: Trying to write this blog with a 4 month old springer spaniel wanting to play is no easy feat....Some dope at the gas station said to me, it could be worse, they pay a lot more in other countries. I don't give a shit what they pay overseas. It cost me 120 bucks to fill my truck up, half that a year ago. How much longer can we afford to be "Riding with Biden?"...2022 W1AW and K6KPH Field Day Bulletin Schedule ...40 meters was great last night, quiet, and lots of dx on ssb. A ham in Serbia was coming in S8 with no preamp on.....