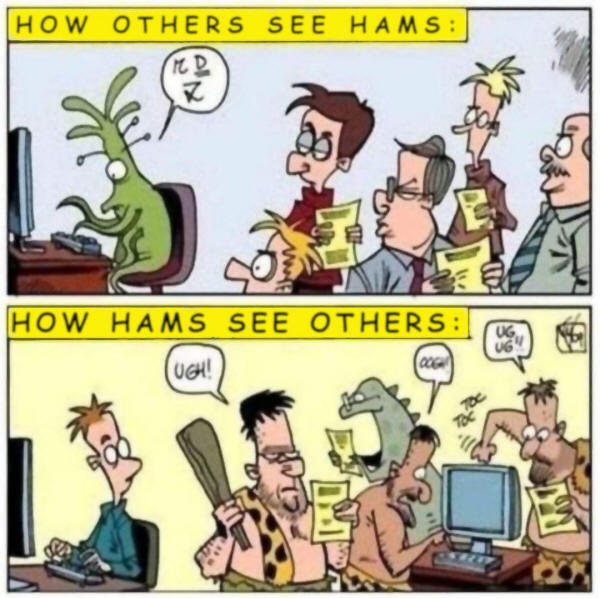 WEEKEND EDITION: FCC turns down petition to create a 4 meter band in the US It does not appear that US radio amateurs will gain a new band at 70 MHz anytime soon.

The FCC has denied a Petition for Rule Making filed earlier this year by Glen E. Zook, K9STH, of Richardson, Texas, seeking to add a 4 meter band to Amateur Radio's inventory of VHF allocations. Zook had floated the proposal in 2010, and his petition was dated January 27, 2010, but the FCC said it did not receive it until last May.

Zook asked the Commission to allocate 70.0 to 70.5 MHz to Amateur Radio because, Zook's Petition asserted, "the recent migration of broadcast television stations to primarily UHF frequencies basically eliminates any probable interference to television channels 4 or 5." VHF TV channel 4 occupies 66 to 72 MHz.

"Because the Zook Petition is based on a faulty premise - that broadcasting use within the 70.0-70.5 MHz band will diminish or cease - its argument that amateur band users could operate without causing harmful interference to any existing service lacks sufficient support to warrant our further consideration, The FCC said in a September 17 Order denying the Petition.

The Order may be found on the web in PDF format at,
http://transition.fcc.gov/Daily_Releases/Daily_Business/2014/
db0917/DA-14-1347A1.pdf

The FCC pointed out that three full-power TV stations, 110 low-power TV stations and translators, and six Class A TV station now occupy channel 4 in the US. In addition, the Commission, through an "ongoing incentive auction proceeding," is attempting to "repurpose" a portion of television broadcast spectrum for broadband operations and "repack the remaining TV stations into a smaller frequency range." Under certain scenarios, the FCC said, channel 4 could become even more heavily populated by broadcast users in the future.

"Given the complexity of the incentive auction proceeding, we also conclude that it would not serve the public interest to further complicate that unique undertaking by proposing to introduce a new service into the broadcasting frequencies at this time," the FCC said. The Order noted that fixed and mobile services will continue to operate in the frequencies between channels 4 and 5 (76 to 82 MHz).

As Zook noted in his petition, a 4 meter band has been authorized for Amateur Radio use in the UK and in a number of other European and African countries. The FCC said that since it wasn't planning to grant Zook's petition, it declined to evaluate his claims "regarding the benefits that amateurs would derive from use of the band."

Zook's original proposal asked to have the FCC open up the allocation to all classes of Amateur Radio licensees.

Brian Justin, WA1ZMS, operated an Experimental Service beacon transmitter from Virginia on 70.005 MHz under the call sign WE9XFT.

At the time his Experimental license was granted in 2010, Justin told the ARRL that he was not seeking to have the FCC create a 4 meter band. "This beacon is purely for radio science for use as an E-skip detection device," he explained.

SEND YOUR MESSAGE TO EARTH FROM AROUND THE MOON Last week we reported that the Lux Space 4M amateur radio payload is expected to fly around the Moon at the end of October. Now comes word that a limited number of hams will be able to upload a message on the 4M website that will be transmitted on 145.980 MHz using the JT65B mode during the flight. Lux Space says that there is only room for 2500 messages each up to 13 characters long. Yours might be something like your first name and callsign or whatever fits in that limited number of characters available to you. There will be also a number of experiments and contests with prizes to the winners in each experiment and category. You can register to take part as well as to upload your message at moon.luxspace.lu/messages. But if you want to take advantage of this once in a lifetime chance you will have to hurry due to the limited number of messages the mission can take with it. (LuxSpace, Southgate) **
RESTRUCTURING: NATIONAL AMATEUR RADIO SOCIETY OF INDIA SEEKS RULES RESTRUCTURING The Amateur Radio Society of India has renewed its efforts to remove what it calls the old British colonial-style excessive red tape that limits the growth of ham radio in that nation as we hear from Amateur Radio Newsline's Bruce Tennant, K6PZW. -- Gopal Madhavan, VU2GMN, is the president of the Amateur Radio Society of India and believes that some very archaic rules and long standing issues exist that restrict ham radio in that nation. These include just obtaining a license. Now he has outlined these concerns in a letter representing his society to the nations Minister of Communications, Information Technology, Law and Justice. One of the points VU2GNM addresses is gaining a security clearance before an amateur radio license can be issued. According to Madhavan, this can take months or even years, and often the paperwork is lost in transit between various agencies. VU2GNM then goes on to note the voluntary contributions that amateur radio makes in terms of technical training, experimentation, and communication. He also points out the public service role of the ham radio community throughout the world in regard to disasters and emergencies. VU2GNM says that the society is seeking an immediate easing of many antiquated regulations. He believes that could lead to the issuing new licenses and to help amateur radio grow in a country of more than 1 point 2 billion people.
PENANG ISLAND JANUARY THROUGH FEBRUAY 2015 In DX up front, word that PA0RRS will be active as 9M2MRS from Penang Island Malaysia between January 1st and February 3rd of 2015. He currently plans to operate 30 through 10 meters CW, RTTY and PSK with SSB only on request. QSL via his home callsign, direct, via the bureau or using the OQRS on ClubLog. (OPDX) **
RADIOSPORT: VOODOO CONTEST GROUP TO KUWAIT FOR CQ WW DX CONTEST The Voodoo Contest Group has been invited to operate at the 2014 CQ World Wide DX CW contest from emerging Multi-Multi contest station being assembled by 9K2HN in northern Kuwait. According to the announcement, the visiting club members are expected to arrive at the station on November 22nd and will operate before the contest with particular emphasis on the lower bands. The Voodoo Contest Group is a band of United States and United Kingdom hams dedicated to winning the CQ World Wide CW Contest each year. QSLs for the 9K2HN operation will go via instructions on QRZ.com. (AA7A, Southgate)
PHILIPPINE HAM RADIO RESPOND TO TYPHOON KALMEGI Once again, ham radio volunteers were activated in the Philippines. This as fast-moving Typhoon Kalmaegi made landfall on Sunday, September 14th. Amateur Radio Newsline's Stephan Kinford, N8WB, reports: -- The Philippines National Disaster Risk Reduction and Management Council had asked all in Typhoon Kalmaegi's path to take the necessary precautions. Even with this early warning the storm left at least 10 people dead from landslides, flash floods, storm surge and wind gusts that at times exceded 100 miles per hour. As the Typhoon approached, the Philippines Amateur Radio Association activated its Ham Emergency Radio Operations or HERO network for priority disaster traffic and relief coordination. The group then requested that the frequency of 7 dot 095 MHz, plus or minus 5 kHz be kept clear for emergency response operations. The HERO operators remained in place as required throughout the severe weather event. At the height of the storm some 7,800 residents were moved to evacuation centers. The typhoon then headed out to the East over the South China Sea toward Hong Kong where it hit with wind gusts again close to 100 miles per and injuring some 29 people. For the Amateur Radio Newsline. I'm Stephen Kinford, N8WB, in Ohio. -- The Typhoon then took aim at southern China where the nations Meteorological Administration had an orange alert in place. That's the second-most severe in the nation's four- tier severe weather warning system. (VK3PC, published news reports) **
RESCUE RADIO: HAM RADIO RESPONDS TO NEVADA FLASH FLOOIDING The ARRL reports that ARES and RACES members in Clark County, Nevada, activated Monday, September 8, after heavy rains sparked flash flooding. Accoding he ARRL, the ham radio volunteers deployed after being called up by local emergency managers to support communication during recovery efforts in the Moapa Valley northeast of Las Vegas. Heavy flooding and mud closed nearly 50 miles of Interstate 15, stranding motorist and truckers while buckling or washing away pavement in many areas. The marooned motorists were cared for at a middle school in the city of Mesquite, on the Arizona border. Emergency sheltering was also needed for nearly 200 tribal members of the Moapa River Reservation. A slow-moving storm that spun off from Hurricane Norbert dumped nearly 4 inches of rain within 90 minutes onto the town of Moapa. The Amateur Radio Emergency Service personnel staffed the Emergency Operations Center in Las Vegas while the Clark County Mobile Communications Vehicle was on the scene as a result of this severe weather event in which at least two people lost their lives. (ARRL) **
RADIO LAW: NEW VANITY FEE IN EFFECT The new $21.40 Amateur Service vanity call sign regulatory fee became effective on September 11th. The $5.30 increase represents the largest vanity fee hike in many years. The FCC released a Report and Order and Further Notice of Proposed Rulemaking on August 29, in which it recalculated the fee to $21.40 for the 10-year license term. (FCC, RW) **
PUBLIC SERVICE: HAM COMMUNICATORS NEEDED FOR BOSTON HALF MARATHOM Sunday, October 12th will see this years running of the Boston Half Marathon and ham radio operators are needed for the event. Some 20 radio amateurs will be required to cover medical teams to support their communications and logistics. The event will run from 6:30 a.m. to 12:30 p.m. Eastern time. All any volunteer needs is a dual band hand held with some extra batteries and perhaps a gain antenna. If you live in the area or will be visiting and want to volunteer, simply take your web browser to tinyurl.com/boston-half-2014 (KG1H)
K6H HOLLYWOOD CELEBRATES HAM RADIO TO STREAM LIVE AT W5KUB.COM Even if you miss making make contact with the upcoming K6H Hollywood Celebrates Ham Radio operation, you will be able to watch it live on-line. This, thanks to Tom Medlin, W5KUB who will be streaming the event live on his W5KUB.com video website. Bill Pasternak, WA6ITF, has more: -- As previously announced here on Amateur Radio Newsline, the Southern California based Papa Repeater System in association with Broadcast Employees Amateur Radio Society and the Disney Emergency Amateur Radio Service will be hosting this second K6H Hollywood Celebrates Ham Radio on the air. The event will again originate from legendary Stage 9 of the CBS Studio Center on Sunday, September 28th from 7 AM to 3 PM Pacific time. Stage 9, best known as the Seinfeld Stage is currently the home of the hit ABC Situation Comedy Last Man Standing in which amateur radio is an ongoing part of the plotline. Operations of K6H will be on 10, 20 and 40 meters along with D-STAR on reflector 12A. The event will also use the facilities of Disney Amateur Radio Interconnect to link the WB6AJE repeater in Los Angeles to Disney/ABC employee sponsored repeaters in Manhattan New York, Bristol Connecticut, Washington DC and Orlando Florida. Various IRLP and Echolink nodes will also be on-line. Those who make contact with K6H will receive a special limited edition QSL card. And as the day moves along, Tom Medlin, W5KUB , will be live from the event and will be streaming the highlights along with interviews of those who happen to drop by to operate K6H. And as if this was not enough, the Papa website at papasys.org will also stream video directly from each of the operating stations, so that you may just be able to see yourself actually making contact with K6H. For the Amateur Radio Newsline, I'm Bill Pasternak, WA6ITF, in the Newsroom in Los Angeles. -- The first K6H operation took place on October 28th of 2012 and was a rousing success. Looking at what has been added this time around will likely result in even more fun as Hollywood once again celebrates Ham Radio, this year on Sunday, September 28th. (PAPA, AA6RA, W5KUB) **
RADIOSPORTS: RESULTS OF THE 2014 WORLD ARDF CHAMPIONSHIPS The Seventeenth World Championships of Amateur Radio Direction Finding have just concluded and Team USA has medaled again. Newsline's Joe Moell, K0OV has the story. -- The Kazakhstan Federation of Radiosports and Radioamateur was host for this year's ARDF World Championships. Over 270 on-foot transmitter hunting experts from 25 nations converged on National Park Burabay on September 6 for six days of competitions and cultural events. World Championships take place every even-numbered year and USA began sending a team in 1998. Our team medaled for the first time in 2006 and has done so every time since. 2014 was no exception, as Vadim Afonkin KB1RLI of Boston won silver in the two meter competition's category for men ages 40 through 49. Vadim also finished in the top seven in the sprint and foxoring competitions. USA's team consisted of four men and three women, ages 29 through 72. This was about half the size of the team that went to the World Championships in Serbia two years ago. Medical, financial and political considerations all played a hand in reducing the size of this year's team. For instance, a foot injury sidelined Bob Cooley KF6VSE of Pleasanton, California. He won four medals two years ago, including three golds, but was unable to travel this year. This year's Team USA members were selected from the best performers in the 2014 USA Championships in Massachusetts and the 2013 USA Championships in North Carolina. Plans are now under way for our 2015 national championships in Colorado during the last weekend of August. Winners there may earn places on Team USA 2016 for the World Championships in Bulgaria. For more information on the championships and the sport of ARDF, plus links to complete results, point your Web browser to www.homingin.com. That's homingin as one word. From southern California this is Joe Moell, K0OV for Amateur Radio Newsline. -- This is the first time that Kazakhstan has hosted the ARDF World Championships. In addition to the competitors another one hundred and fifty visitors were on hand as a part of this major radiosporting event. (K0OV)
In DX, word that DF1YP is on the air stroke F-Oh from Moorea Island in French Polynesia and should be active until October 8th. Activity will be holiday style mainly on 20 meters on SSB. QSL via his home callsign, direct or via the bureau. Members of the Italian DXpedition Team should be on the air from Benin by the time you hear this newscast. According to the groups announcement the operation that was originally scheduled to take place later on this year had to be moved up due to business commitments on the part of some of the operators. They are currently on the air operating as TY1AA through September 26th. If you make contact QSL to I2YSB, either direct or via the bureau. FK8IK has announced that his trip to the Chesterfield Islands and other Islands on the Air locations that were scheduled for November will not be taking place as planned. This is because the sailboat he was planning to use for transportation is no longer available on these dates. No new schedule has been announced. Lastly, AA9A, will be operational as PJ7AA from Sint Maarten between February 18th and March 16th of 2015. Activity will be on 40 through 10 meters using CW and SSB. QSL via AA9A or electronically using Logbook of the World. (This weeks DX courtesy of the Ohio-Penn DX Newsletter) **
THAT FINAL ITEM: SONGSTRESS SARAH BRIGHTMAN TO BEGIN TRAINING AS SPACE TOURIST IN EARLY 2015 And finally this week, international singing sensation Sarah Brightman will soon begin training for her planned trip to the International Space Station but any ham radio operation by her is still in doubt. Amateur Radio Newsline's Gary Bernstein, N9VU, has the details: -- According to Russia's ITAR-TAAS News Agency, Sarah Brightman plans to begin pre-flight training for her journey to the International Space Station early next year. Yuri Lonchakov is the head of the Russia's Gagarin Cosmonaut Training Centre. He says that Brightman's training will actually begin next January at the Star City facility not far from Moscow. Less than three months ago Lonchakov said that the famous singer had already passed a number of required tests and was ready to begin preparations for the trip. In conjunction with her role as a UNESCO Artist for Peace ambassador, Brightman says that she will present life on board the space station which requires the mindful, shared consumption of resources and an unwavering focus on sustainability. This as a model for how we might better inhabit our planet. Brightman is also considered as an ardent supporter of women's education in science. In 2012 in conjunction with Virgin Galactic, the Brightman STEM Scholarship program was created to help young women in the United States pursue this type of education across their four-year college careers. Stem is an acronym that covers the subjects of science, technology, engineering, and mathematics. Once her training is completed Brightman is tentatively scheduled to be part of a three-person crew travelling to the ISS on board the Soyuz TMA-18M spacecraft later in 2015 At airtime it is not known whethershe will be trained in the use of the Amateur Radio on the International Space Station gear or if she will get an amateur license from the United Kingdom regulator Ofcom so that she can make use of it. In 1991 the first UK astronaut Helen Sharman was issued with a special callsign GB1MIR by Ofcom's predecessor the Radiocommunications Division of the Department of Trade and Industry. She was then able to contact radio amateurs on Earth during her stay on the now de-orbited Mir space station. For the Amateur Radio Newsline I'm Gary Bernstein, N9VU, reporting. -- The first space tourist was U-S entrepreneur Dennis Tito, KG6FZX who made the flight to the ISS in 2001 and spent eight days at the station. The most recent visitor was Cirque du Soleil co-founder Guy Laliberte, who spent 11 days at the ISS in 2009. If the Sarah Brightman reaches the ISS next year, she will become the eighth visitor to the orbiting outpost. More about her plans for her space adventure are on her website at www.sarahbrightman.com. (ITAR-TAAS, AMSAT-UK)




THURSDAY UPDATE: Just came back from NH, visited Joe and Mike at the Hancock Camp site on the Kancamagus Highway. I arrived minus my son's trailer and spent the day with the guys, visited the bears, bought ammo at the gunshop, had a great meal over a campfire......and yup, retreated to the a motel for the night. I believe they call it "pussy camping", enjoy the camping experience of food and a nice fire but retreat to the heated room with wifi, shower, and big screen TV while watching last nights episode of Sons of Anarchy. It may be my wave of the future! Thanks Mike and Joe for the good time. By the way, those bears eat better and are better groomed than I am.....healthy looking, well fed bears. Funny that there was a bear alert at the campground.
While at the campground we got the details of the man who hung himself at site #25 this summer, we talked to Sam, the site host, who found him and cut him down. It turns out he was the RI undertaker that was in deep shit for disposing of his clients incorrectly.....Joe-JEK was a little stressed over the situation but a few 12 ounce tranquilizers seemed to work quite well....Joe also got flashed by some cluster fuck on RT 93 on the way to the campground. We missed Scott and Bob T!

Mike-XW and Joe-Jek

New England Hams you might run across on 3864 or 3910.........

K1TP- Jon....Editor of As The World Turns....
W1STS- Scott...philosopher, hat connoisseur,
NIEDU- Dave.... ex-Asst. manager at HRO's Salem store and for some unknown reason rides his cycle year round..
KB1JXU- Matthew...75 meter regular...our token liberal Democrat out of VT
KA1BXB-Don....75 meter Regular......residing on the Cape of Cod, flying planes and playing radio
KMIG-Rick....75 Meter Regular....teaches the future of mankind, it's scary!
W1PNR-Mack....75 meter Regular...wealth of ham knowledge....
W1GWU-Bob....one of the Hosstrader's original organizers, 75 meter regular, Tech Wizard!!!
W1TCS- Terry....75 meter regular, wealth of electronic knowledge...
K1PV- Roger....75 meter regular, easy going guy...
K1PEK-Steve..Founder of Davis-RF....my best friend from high school
K9AEN-John...Easy going ham found at all the hamfests
WB1DVD- Gil....Gilly..Gilmore.....easy going, computer parts selling, New England Ham..
W1OKQ- Jack....3936 Wheeling and Dealing......keeping the boys on there toes....
K1JEK-Joe.........Easy going, can be found at every ham flea market in New England ...Cobra Antenna builder..
K1BXI- John.........Dr. Linux....fine amateur radio op ....wealth of experience...
KA1GJU- Kriss- Tower climbing pilot who cooks on the side at Hosstrader's...
KB1CJG-"Cobby"- Low key gent can be found on many of the 75 meter nets.........
N1XW.....Mike- claims to have been abducted by aliens......Temper!
W1XER...Scott....easy going guy
K1BQT.....Rick....very talented ham, loves his politics, has designed gear for MFJ...
W1KQ- Jim- Retired Air Force Controller...told quite a few pilots where to go!
N1OOL-Jeff- The 3936 master plumber and ragchewer...
K1BRS-Bruce- Computer Tech of 3936...multi talented kidney stone passing ham...
WB1AAZ- Mike, Antrim, NH, auto parts truck driver-retired
K1BGH- Arthur, Cape Cod, construction company/ice cream shop, hard working man....
W1VAK- Ed, Cape Cod, lots of experience in all areas, once was a Jacques Cousteus body guard....
KD1ZY- Warren....3910 regular
N1IOM- Paul.....3910 test king....testing......
N1YSU- Bob, easy going, kind of like Mr. Rogers until politics are brought up then watch out...
K1BNH- Bill- Used to work for a bottled gas company-we think he has been around nitrous oxide to long .
Silent Key WIPNR- Mack....DXCC Master, worked them all!.. 3864 regular for many years...
Silent Key WILIM- Hu....SK at 92... 3864 regular for many years...
Silent Key N1SIE- Dave....Loves to fly
Silent Key:N1WBD- Big Bob- Tallest ham, at 6'10", of the 3864 group and owner of Peanut (silent key)- mascot....
Silent Key: W1FSK-Steve....Navy Pilot, HRO Salesman, has owned every radio ever built!
Silent Key: W4NTI-Vietnam Dan....far from easy going cw and ssb op on 14275/313
Silent Key:K1FUB-Bill- Loved ham radio........Ham Radio Ambassador!
Silent Key: K1GAR- John- Very colorful character!......claims to an appointed "hambassador" by Gordon West.....
Silent Key: N1GXW-Frank-Mellow Mainer..........
Silent Key:W1JSH-Mort- Nice fellow to talk to on 3936 on the early afternoon session
Silent Key: K4WHO-Kerry-Mellow ham, professional musician, one of the nice guys on 20 meters..........